Scooter's Malt Shoppe
June 14, 2020
Ice cream and hikes.  If you could sum up our "quarantine" it's been ice cream and hikes.
I put in a lot of hours a couple of weeks ago and desperately needed a few days off.  On top of the long hours, I had been on my feet a lot.  Both of my heels were blistered and bloody from the long hours.
J has been doing  hikes with the kids almost every day.  I sat out Saturday's walk but started feeling guilty about sitting out another one.  I started looking for some place easy and some place short.  Bonus points if was near an ice cream spot.
I picked Scotts Mill County Park.  I had never been there and had no idea what the actual trails were like.  It didn't look very big and most importantly, there was ice cream nearby.
The Village of Scotts is only couple miles from the park and even though it's pretty tiny, they have an ice cream shop….but not just a regular boring ice cream shop.  They have a throwback soda fountain in Scooters Malt Shop. 
Scooters Malt Shop is on the main street through town.  It's right on the corner of 36th and Norscott Street just across from Scotts Corner Cafe.
The malt shoppe is really what you hope it is when you make the journey off I-94.  The building has clearly been on this corner for many years.  There are two large rooms both with fantastic hardwood floors and walls covered in nostalgic knick-knacks.
The ice cream counter is near the back of the room where you enter.  It unfortunately doesn't have the old soda fountain set up with a lunch counter.  In the before times, the space would have been filled with tables but since we're in the pandemic era, those tables were all pushed to the side waiting for the day they could go back to being useful.
The space would mostly be tables but there are a few booths that would feel at home in a 50's diner.  Unfortunately, the bright blue booths with yellow trim were closed off with tape.
The ice cream cooler is pretty standard for hand dipped ice cream places.  They had a huge variety of Ludington based Ashby's Sterling Ice Cream.  There are only a couple of places in the Kalamazoo area that serve Ashby's.  Scooters is one.  There's a place in Portage, a place in Climax, and that's it in Kalamazoo County.
The ice cream options are pretty simple.  The kids each got scoops of ice cream.  B made no hesitation going for his new favorite Mint Chocolate Chip.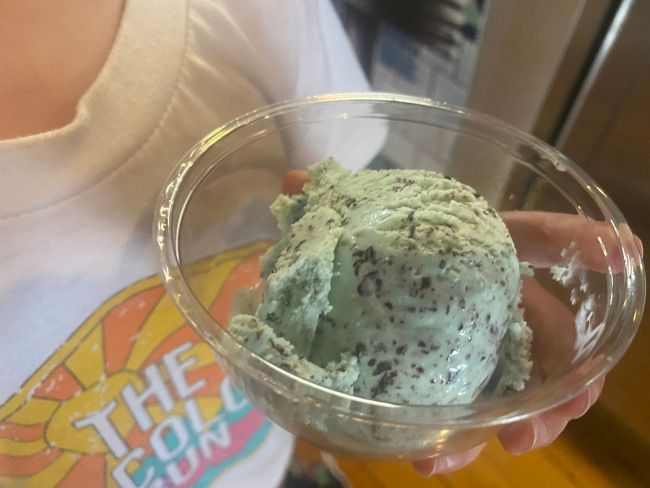 L did a Cookie's and Cream.  Sometimes I think she picks cookie ice cream just to taunt me.  She gets my favorite then just waves it around in front of me like I don't have my own or something.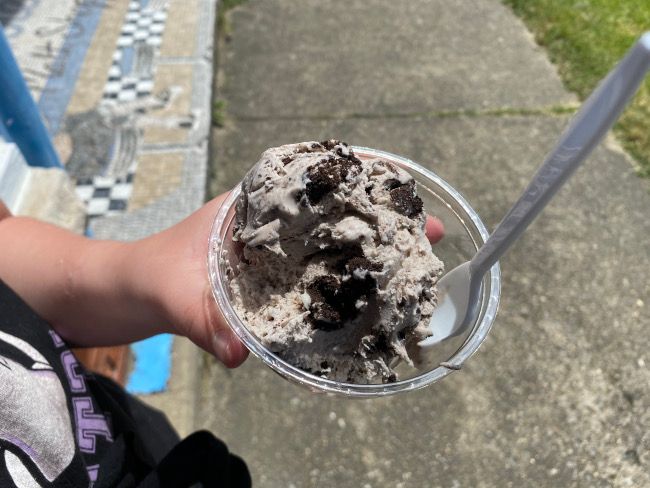 J and I each got Flurry's.  I did a Cookie Dough while J did coconut. Both used vanilla soft serve and a handful of mixins.  Mine had big chunks of frozen cookie dough while hers had coconut flakes.  The ice cream to cookie ratio was super great in  mine but it was still a delicious treat.
It's always so fun to see the kids get so excited about ice cream.  B grabbed his cup and ran outside.  He took his mask off then plopped down right on the sidewalk so he could eat.  He couldn't even wait the five minutes it would have taken us to get to the park.
Our bill before tip was a little over $15.  We took our treats over to Scotts Mill County Park and ate them on the grass there since our visit was while dine-in at restaurants was still prohibited.
Scooters Malt Shoppe is such a cool little throwback.  They have a small food menu as well so you really could make a whole trip out of drive to Scotts.