Moo Moo's Ice Cream Joint
June 9, 2020
Things are slowly getting back to normal.  I hate the phrase "new normal" so I won't use it but slowly, cautiously, we're starting to do more things again.
A couple of weeks ago, my mom asked if we could meet somewhere in southwest Michigan for a hike.   J and the kids have been doing hikes almost everyday around Kalamazoo and my parents thought that looked kind of fun.  We hadn't seen each other since the middle of February and my parents really wanted to see the kids.
We met at Galien River County Park just outside of New Buffalo.  We hiked the trails there then ran in to town to pick up carry-out from The Stray Dog.  We found a place to eat at the Township Hall across the street from the park then went back to the park and hiked some more.
My parents were really happy they finally got to see the kids again and the kids were just as happy to see Grandma and Papa.
It was a pretty exhausting day so I promised the kids we'd stop for ice cream on the way home.  B fell asleep for a little while in his car seat so I took my promise all the way back to Mattawan before waking him up for a treat.
We picked Moo Moo's Ice Cream Joint in downtown Mattawan.  The small ice cream shop is in kind of a weird commercial building right next to the Mattawan Memorial Park. The red facade and black awning among the dull tan siding surround it makes this place super easy to spot
B was still asleep and we didn't all need to go in so J and L masked up to go get ice cream for all of us.  There was a menu board with flavors outside to cut down on the amount of people inside at any one time.
Moo Moo's really goes all out with the cow theme.  The floors are a black and white checkerboard tile against start white walls covered with tchotchke's on white shelves.  There are stools made out of steel milk jugs painted in the black and white checkerboard pattern.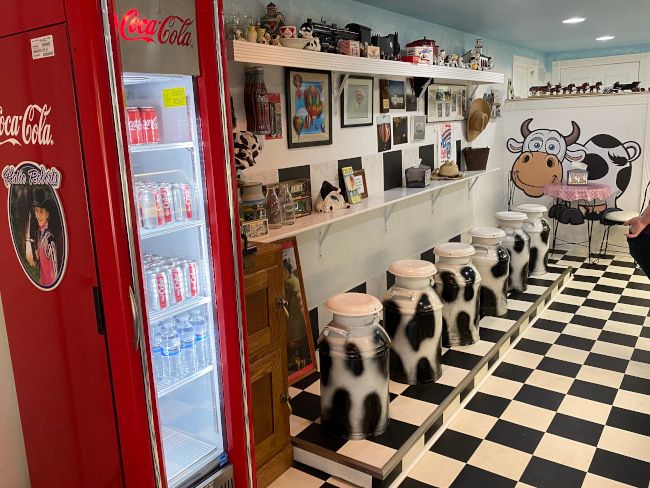 Now that dine-in is open again, there are a few tables inside when you just don't want to take the ice cream outside on those hot summer days.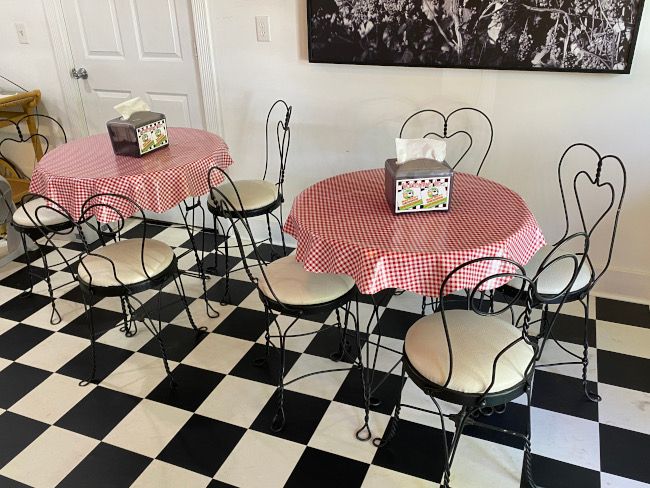 The ice cream at Moo Moo's is from Hershey's which isn't something you see a lot of around here.  Most places seem to use the Michigan creameries so using Hershey's instead makes them somewhat unique.
We all kept it pretty simple with just scoops of ice cream in a dish.  They had a few other options but nothing really out of the ordinary.  The ice cream flavors at Moo Moo's are all pretty standard.  B got Mint Chocolate Chip, I got Cookies and Cream, so you know..pretty standard, delicious stuff on a warm almost summer afternoon.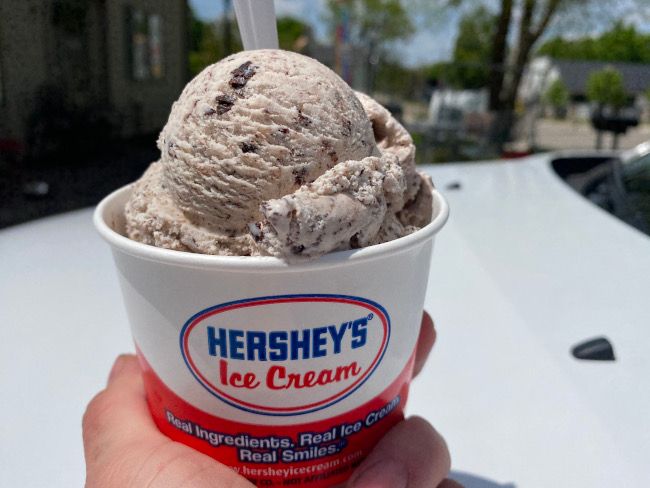 Our bill for four cups of ice cream was just a little over $18.
Moo Moo's has a pretty great location in downtown Mattawan right across the park.  It's a perfect place to take the kids after a couple hours of hard play and it's walkable from most of the residential areas in town.  All communities need an ice cream joint like this.