Scott's Pig Roast
June 16, 2020
Oh man.  Lunchtime Live is back in downtown Kalamazoo.  I hadn't seen anything advertising that it was coming back but I came in to work a little bit later on Friday morning and the food trucks were lined up on the north side of South Street.
I dropped my stuff off at the office then walked over to the park to see what new trucks joined the party this year.  At first glance, it appeared there were more new ones than returning ones so I'm going to have a lot to try this year.
I picked Scott's Pig Roast for my lunch on this particular Friday.
Scott's Pig Roast is a bright yellow truck based out of Marcellus.  It's not too hard to figure out what kind of food they're cooking up in this truck.  There's a pig in a smoker right in the logo.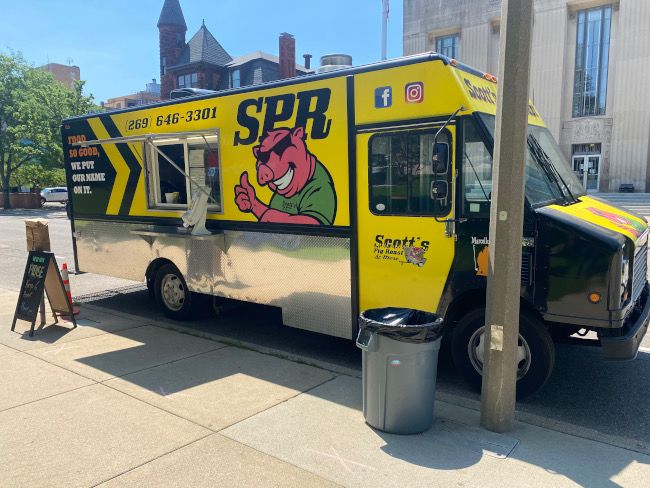 The downtown offices still aren't back to pre-pandemic levels so there weren't nearly as many people in the park as there typically are.  There was one person in front of me paying and grabbing their food as I walked up to look at the menu in the window.
I could only pick one thing despite wanting almost literally everything on the menu (I don't like Sweet Potato Fries).  Due to those restrictions I put on myself, I picked the Can't Decide Sandwich Basket with an order of fries on the side.
I paid with my card and by the time she was handing it back to me, a to-go container was passed through the window with my food.  They had a really good, quick system to get stuff out very quickly.
I walked back to the office to eat instead of trying to drop BBQ sauce all over my shirt.  The sandwich is the ultimate can't pick between pork and brisket idea….because it's both of those….pulled pork and brisket on one sandwich.  I picked the Sweet Sauce which they really poured all over the meat.  Next time I would maybe go naked so I could get a little more meat taste, but the meat covered in sauce was really tasty.  The sandwich was served on a brioche bun which really held up well to the mess of the juicy, saucy meat.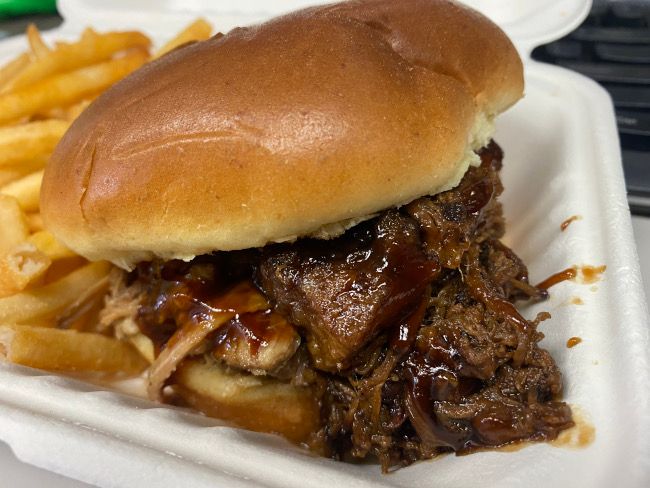 The fries were out of the bag frozen fries but they were the skinnier kind and really crisped up well.  There was a seasoning salt on them added after they were fried.  A little cup of sweet sauce on the side to dip them in would have been pretty great.
My meal came out to a little under $9 which is a pretty good deal for delicious BBQ from a food truck.
It may seem like every new food truck that pops up in the area is a BBQ truck.  BBQ is one of those foods that is an art form.  Everybody does something different.  They cook it differently.  The sauces are different.  The rubs are different.  You really can't have too many BBQ trucks and Scott's Pig Roast is a welcome addition to the Kalamazoo Food Truck Scene.