Bleu Burger
August 9, 2020
I always say I never really plan on eating out on Friday's in the summer but there's always something at Lunchtime Live that draws me in.
I had the same intentions this past Friday.  I would wait until I got home from work and gorge myself on pizza from wherever my wife decided to order from that night.
Plans change though.  I was driving on South Street in downtown Kalamazoo and saw the food trucks setting up.  One of them sounded good so after I finished my work for the morning, I headed over for a burger and fries.
Bleu Burger is part of the company that used to operate Mangia Mangia in downtown Kalamazoo andMangia Pizza and Pasta in Oshtemo…and still operates La Cantina in Paw Paw.  It's a sister truck to Blue Plate Food Truck but this one specializes in burgers with a bleu cheese sauce.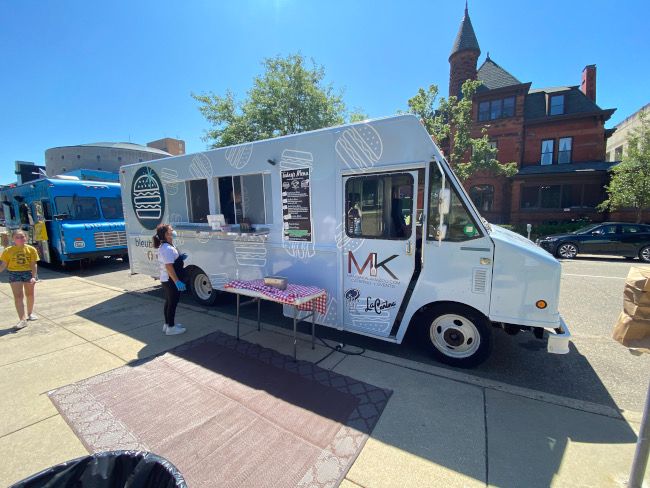 The menu is as simple as you'd expect.  Burgers and a few sides.  They do have options for you non-beef eaters to substitute chicken or a Beyond burger if that's a thing you do.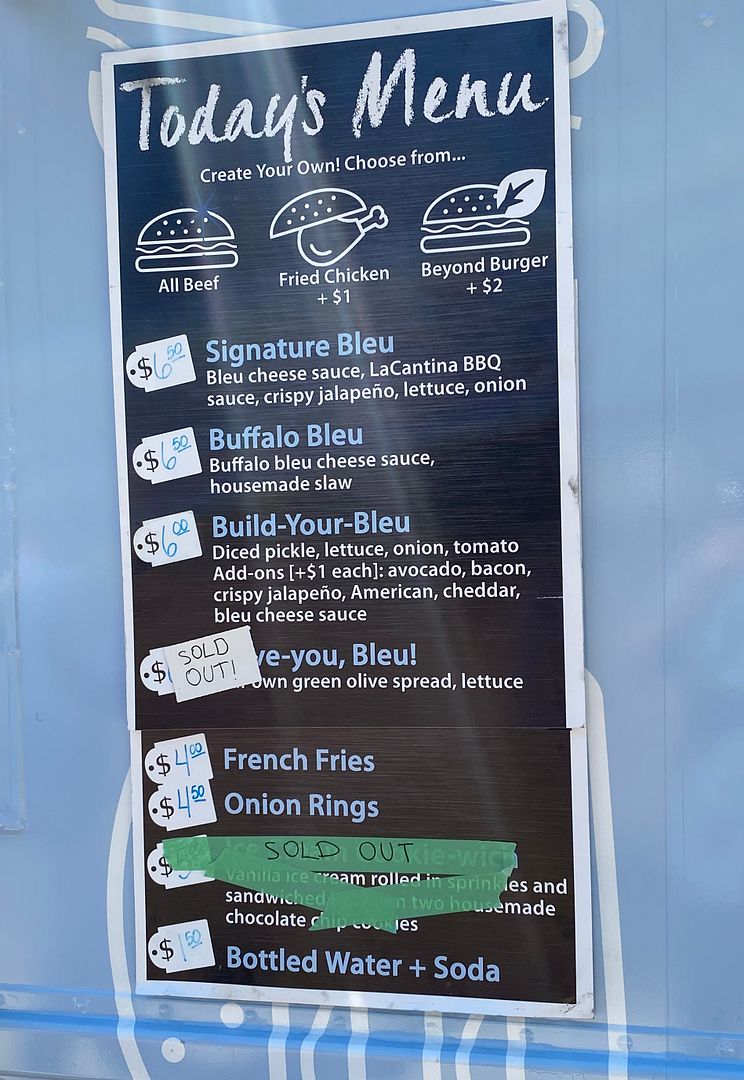 I went for the Signature Bleu and an order of french fries.  The total was $10 and my order was being handed out the window surprisingly quick.
I walked back to the office with my little paper boat of food instead of taking advantage of the new seating at Bronson Park.
I started with the fries first.  They were frozen fries but they were an interesting twisty steak fry.  There were quite a bit stuffed in to that paper boat which was surprising but welcome.  They were really pretty simple fries but cooked well with a crispy outside and a soft, pillowy inside.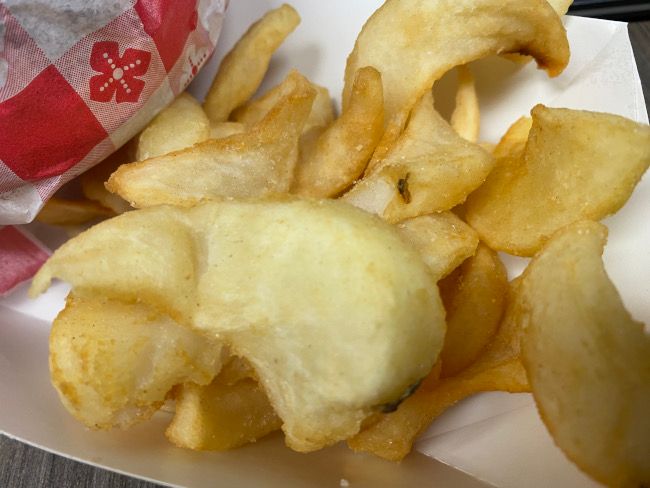 The burger looked super promising when I unwrapped it from the wax paper wrapper.  The sandwich has a delicious soft brioche roll with a burger patty, La Cantina BBQ sauce, a bleu cheese sauce, fried jalapeno bits, lettuce and onion.  I noted earlier the burger came out quick and I think I figured it out.  The burger is a frozen burger.  It's a tasty frozen burger but I'm guessing they have quite a few going at once to keep up with demand.  I really liked the fried jalapenos.  You got a little bit in each bite but it wasn't mouth numbingly hot like raw slices sometimes are.  The BBQ sauce and Bleu cheese sauces mixed together so neither was overpowering.  It was a mellow combination.
Bleu Burger is a pretty solid food truck burger.  The food came out quick, was tasty, and I was pretty full when I got done.  There area lot of choices at Lunchtime Live but I think this one is doing something unique just focusing on burgers and fries….and who doesn't love that combination.