Marge's Donut Den
August 20, 2020
I've been working some odd hours lately.  I'm having to pick up some weekend shifts in Grand Rapids and those shifts come with a 1 AM start time.
I headed out of the office a little after 8 AM on a Sunday morning to make the drive home to Kalamazoo.  I had thought about stopping at Sweetwaters in Plainwell to pick up breakfast for everyone when I remembered Grand Rapids has it's own donut shop that everyone raves about.
I pulled of US-131 and headed west on 28th Street to Marge's Donut Den.  The bakery has been a staple in Wyoming since the mid-1970's.  The unassuming brick building with large windows sits on the north side of 28th Street near Hague Avenue in Wyoming's Beverly Neighborhood.
The bakery is divided in to two spaces with a large dining room on one side and a smaller order area on the other.  The set up is pretty familiar with several cases of donuts wrapping around the area in a L-Shape.  The employees are dressed in stark white shirts giving the place a bit of a throw back feel to almost a soda fountain feel.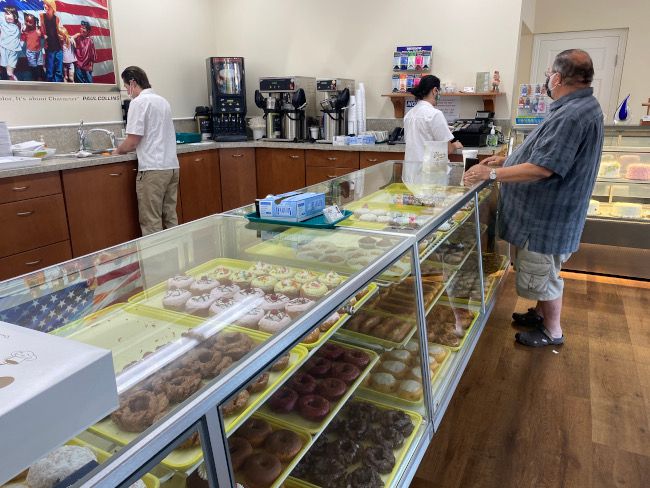 There are so many donuts to chose from.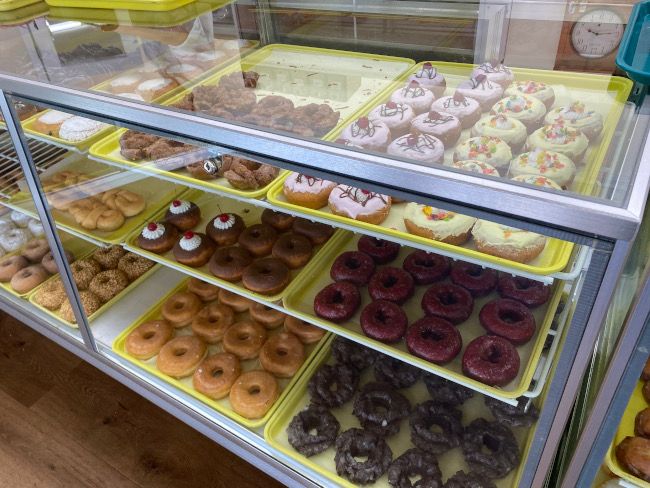 The trays of donuts aren't really labeled but it's easy to figure out what everything is.  I told the employee working with me I wanted a dozen and sent her from cabinet to cabinet getting something I had hoped would make everyone in my house happy.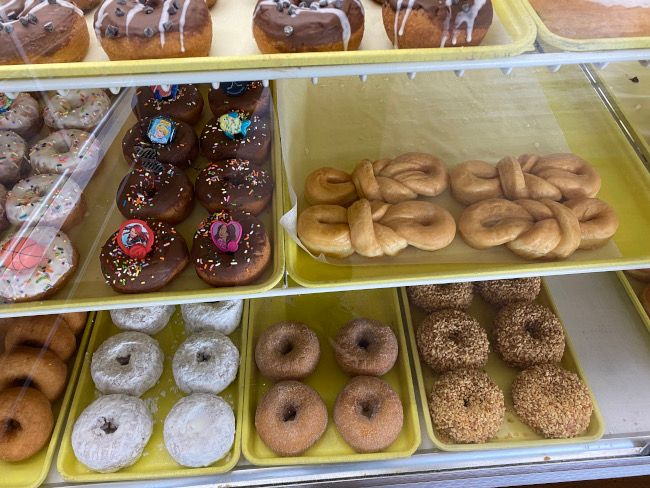 My kids always like donuts with pink frosting so that is where I started.  I got two Strawberry jam filled donuts thinking that would make everyone happy.  L wasn't interested in and B wasn't really on board.  He kind of ate around the jam before asking for another one.
Luckily, I got two of the simple glazed donuts.  B really liked this one.  He ate all of his and asked for what was left of mine…so of course I gave it to him.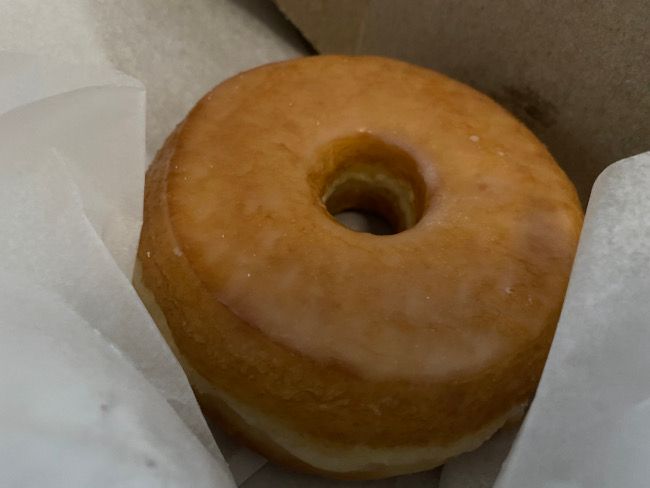 I got a blueberry jam filled powdered donut for J.  I think this is the one L really wanted but J grabbed it first.
L ended up grabbing the plan powdered sugar donut before I had a chance to.  I should have gotten a couple of these because it was really tasty…simple and tasty with the thick layer of powdered sugar clinging to the fried dough.
The cost for the half dozen donuts was $8.
Are they better than Sweetwaters as any Grand Rapidian will argue?  They're their own thing.  They're different kinds of donuts and I will appreciate them for that.  Marge's Donut Den is definitely a special place and one that should be sought out for delicious breakfast baked goods when visiting the Grand Rapids area.