Kelvin & Co. Urban BBQ (Portage)
July 3, 2020
I've mentioned how much I love BBQ…right?  Yeah..I'm sure I've mentioned it once or twice.
There always seems to only be a couple good options for BBQ at any one time in Kalamazoo.  I'm not complaining about that.  When I moved here ten years ago, I don't think there were any good options.  Between food trucks and a couple fabulous brick and mortar restaurants, there's always good BBQ somewhere in town.
One of the constants when it has come to BBQ the last few years has been Kelvin & Company.  Yeah, they've had issues with locations in downtown Kalamazoo and Grand Rapids' Eastown but it's never been a product issue.  It was building issues in both of those locations.
Not long before the original Downtown Kalamazoo location was shut down, they opened  restaurant not too far from my house in Oshtemo.  It's worked out great during the pandemic as we have ordered either for carry-out or UberEats delivery from them several times.
In the Before Times, Kelvin & Company opened another location.  This time in Portage on South Westnedge.  The restaurant is a little hard to find if you're not looking for it.  It's near the intersection with Romence Road behind the Texas Roadhouse.  You have to turn in to the Sam's Club access drive from Westnedge to find it in a small strip shopping center facing the Sam's parking lot.
The Portage location for Kelvin & Company has been closed through most of the pandemic.  They just recently reopened for take out and delivery service.  A co-worker and I happened to be in the area.  He wanted for Qdoba for lunch but my stomach was leading me to delicious BBQ.  I told him I'd stop at Qdoba if he wanted but I was also stopping to get some brisket.
The space Kelvin & Company is in now used to be a Mackenzie's Cafe & Bakery.  It's a pretty large space with a decent sized dining room and a large order counter near the back.  There's a half wall that directs you to one side where an employee was waitng for me to place an order.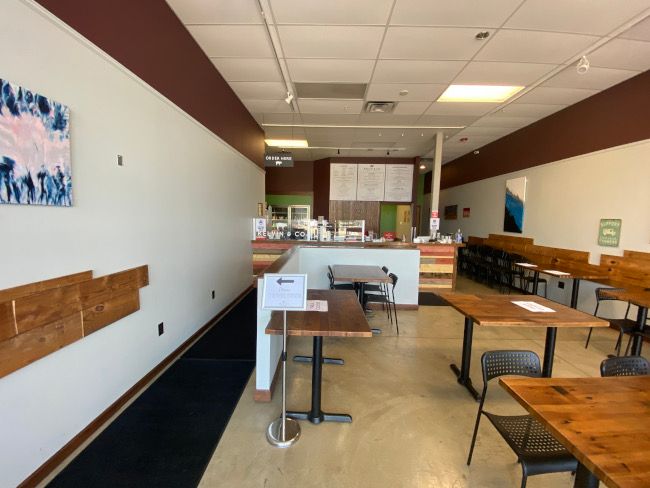 The menu board hangs behind the counter but, as I mentioned earlier, I eat at Kelvin pretty often.  I put in my order for a large order of brisket and a side of the jalapeno mac.  Had I taken a few minutes to actually look at that large menu board, I would have noticed a Cuban sandwich which I either have never noticed before or it's something new.  Either way, I'll be back to check this out…Cuban's are a weakness of mine.
I was the only person in the store so I headed down to the cash register while the employee sliced the brisket I ordered and packed it up.  I was trying to snap a few pictures for this blog while she was doing that and I think as I look back on it, it made me a look little creepy.   I really hope I didn't make her uncomfortable.
Once she had everything packed up, I paid with my card as she handed over the bag.  The cost came out to just a little over $12.  The credit card didn't give me an option to tip so I took a few singles out of my wallet and threw it in to the tip jar before walking out.
The dining room looks like it's set up for the 50% capacity right now with chairs only at every other table.  The decor is pretty simple with some traditional BBQ signs and artwork depicting the different cuts of meat from the various animals they serve.  The tables and chairs all have a modern comfort look to them.  The black chairs contrast pretty hard against the neutral paint on the walls and the light wood laminate flooring boards they used as a chair rail.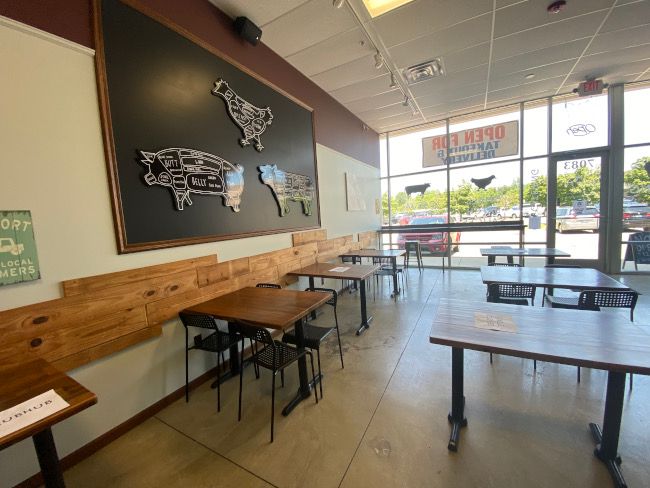 So, co-worker still decided he wanted Qdoba.  He's loss.  We got him tacos and then headed back to the office.  I grabbed a fork and went all in on the Jalapeno Mac & Cheese.  My whole family is pretty big fans of the mac & cheese from Kelvin & Co. so I started ordering the Jalapeno Mac so no one would take it from me.  The macaroni noodles have a really thick, creamy cheese sauce that sticks to every inch of the noodles.  There are little pieces diced of Jalapeno mixed in to the pasta which gives it a very slight kick and a very tasty pepper flavor.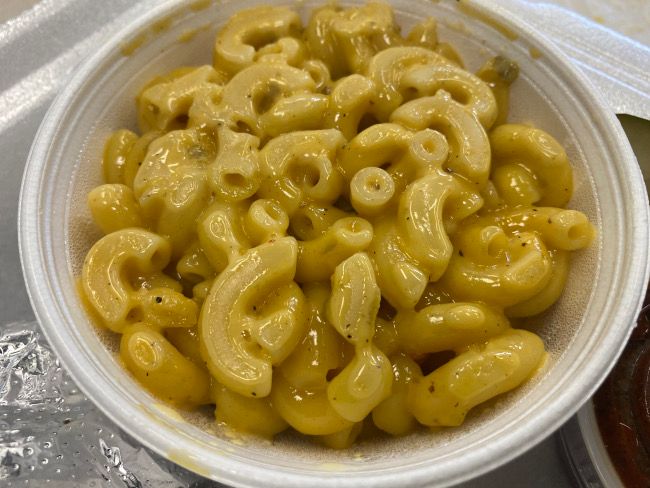 I know I'm preaching to the choir here but good brisket is really good.  Kelvin & Company's brisket is really good.
I always get the sliced brisket over the chopped.  I just like picking up the long slices and tearing them apart.  The brisket is always so tender and just melts in your mouth.  I got a cup of the Texas BBQ sauce to go with the brisket because I like the sweet heat it provides.  The brisket really can be eaten on it's own without the need for sauce and I ate about half of it that way and the other half with just a little bit of sauce because my taste buds really like being scorched.
I already kind of said it but good BBQ is really good and Kelvin & Company is better than good BBQ.  It's a challenge for me not to eat there every day.  I don't know how often I'll eat at the Portage location just because it's so far away and there's one closer to me but I do spend a decent amount of time in Portage for work.  I love having local place that I really like mixed in with all the chains that occupy Portage's business district.