El Ranchero
July 10, 2020
So…ya'll know I like tacos right.  I think I've made that pretty clear.
Co-worker and I needed to make a trip to Vicksburg from downtown Kalamazoo late last week.  The quickest way was to just drive down Portage Road.  I really wasn't hungry on the way down there but we pass El Ranchero on the way there and I really needed a particular spice I can only seem to find at Mexican grocery stores.  We had a little bit of time to spare on the way back so I told co-worker I needed something and whipped in to the lot.
El Ranchero sits on the corner of Portage Road and Kilgore right near the I-94 interchange in Kalamazoo's Milwood neighborhood.  The store is quite large because it was Vermulen's furniture store for many many years.  The grocery store came in late last year after moving from a spot further down Portage Road.  This location tripled the size of their business.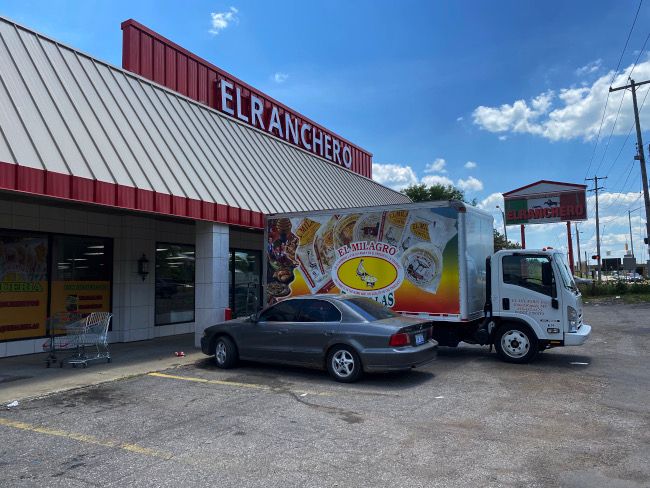 So, yeah.  El Ranchero is a grocery store.  They have all the household staples and a huge selection of products unique to Mexican cooking.  I was looking for a chili powder I use in my BBQ rubs.  I found it easily and grabbed four bags….but that really wasn't the only reason I stopped at El Ranchero.
Tacos.  Yeah..tacos were the reason I stopped at El Ranchero.  Right as you walk in the door, there's a small restaurant.  It's pretty narrow with an order counter looking into the kitchen on one side and a row of tables on the other.  The simple menu hangs on the far wall.  Sure..we're in the middle of a pandemic but that didn't stop all of the available tables from being full.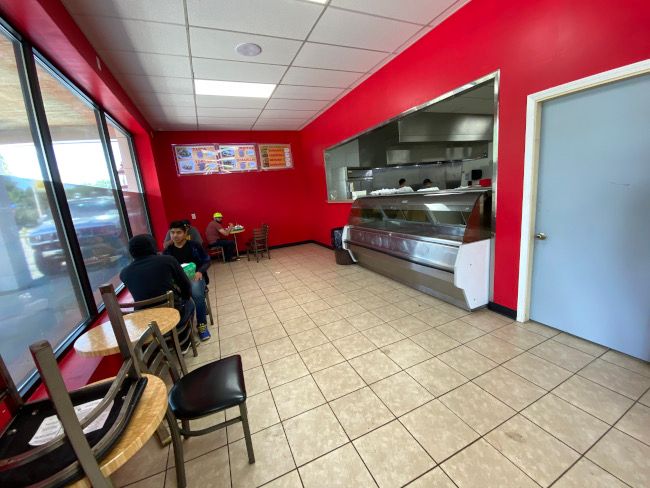 Ordering is done right at what looks to be a deli counter.  One of the two guys working the kitchen saw me walk up and grabbed an order pad.  I put in my order for five steak tacos with just cilantro.  He passed the ticket back to the cook who went to work while I found an open space to wait.
It took a little less than ten minutes for the food to be cooked and boxed up.  Along with the bag, the cook handed me the order ticket so I could take it to the register to pay.  I grabbed the bags of chili powder I needed then paid for my meal.  The five tacos were just a little under $15.
Good tacos really are one of my favorite things in the world.  They're so simple but can be so delicious.
The tacos from El Ranchero are delicious.  They each come with two grilled corn tortillas wrapped round tender, seasoned steak with large sprinkles of cilantro on top.  I always go for the red sauce that comes with tacos first and I was not prepared for the level of heat that red sauce packed.  It was a tasty heat and once I got myself ready for it, I put it on the rest of the tacos and greedily scarfed down every last bite in the foam to-go box.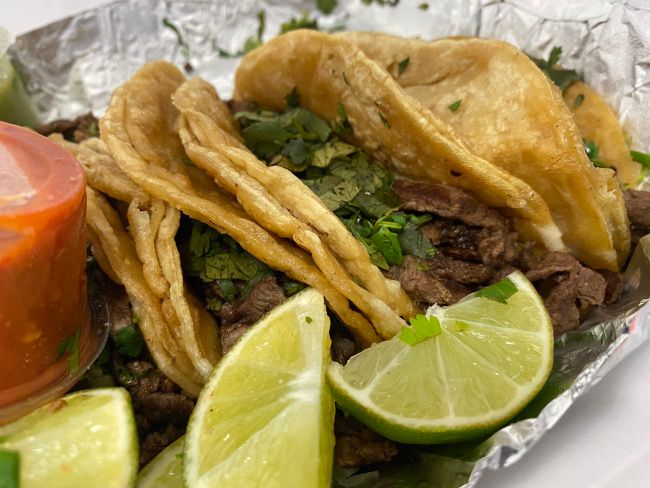 The tacos from El Ranchero were really good.  So good in fact, the smell wafting out in to the parking lot from the kitchen was enough to entice my co-worker to come in and see what was taking me so long.  He ended up ordering too.
El Ranchero will become another regular stop for me.  I really do go through a lot of chili powder when I cook so that will always bring me back.  But now that I know what else is hiding inside of this giant neighborhood grocery store, I'll be making more regular visits.