Small Town Sandwich Shop
June 27, 2020
I had no idea my colleague was going to be off this past Friday.  I went in to work expecting a normal day when I got a call from the home office in Grand Rapids.  The guy I usually work with in Kalamazoo had taken a vacation day and I was needed to work with a colleague out of the GR office.
The day started simple enough, I met him in Dorr for our first task.  I thought we'd just head in to Grand Rapids after that but we got rerouted to the lakeshore for task number two.
We ended up in Grand Haven around 1:30.  I was really tempted to take the long way home and pick up BBQ from American Char in Drenthe, but I figured I shouldn't go out of my way so I went the normal way back to Grand Rapids using M-104 back to I-96.
I had originally planned to just stop at the Wesco and get popcorn for lunch because, honestly, who doesn't love Wesco popcorn?  That was the plan at least until I crossed the bridge in to Spring Lake and something else caught my attention.
Small Town Sandwich Shop is just that. It's a small town sandwich shop right on the western edge of Spring Lake just before you hit US-31.  The address is actually on Savidge Street which actually is kind of a weird street in that area.  Somehow, Savidge Street runs on both sides of the small building and is connected to each other with Savidge Court.  Whatever the weird map logistics are, it's easy to see from M-104.
It's been quite a while since I've been to the Grand Haven/Spring Lake area so I really didn't know what I was going to find for lunch.  If I remember right, this place used to be a fish fry place.  I never stopped in when I was going to Grand Haven more regularly so this is a totally new experience for me.
I was really hoping this was going to be a counter order place and sure enough, it is.  There are large menus hanging in front of the kitchen the area so it's really easy to find what you want to eat.
Next to those large menus is a small order area with the cash register.  There were a couple of guys hanging out sort of near the area but not really near the register.  I couldn't tell if they had ordered or not and didn't want to interrupt them to ask so I just looked at the menu a bit longer.  Fortunately, the cashier came out with two boxes of food and handed it to them.  She noticed me standing there and proceeded to ask what I wanted to eat.
I put in my order for a Cuban and a half pound of beer battered fries.  The sandwiches didn't come with any sides so the side of fries was extra.  I paid the $12 with my card then became that guy sort of waiting by the register but not really waiting on my food.
I grabbed my sandwich to go but they have a pretty cool dining room that looks like they would have a pretty good capacity once we get out of the COVID thing.  There are four or five tables right now and a couple of more outside.   The wlls have some pretty cool art that's kind of a mix between grafitti and comic book.  It adds to the fun vibe the place has with the bright colors.
I had about an hour drive back to Grand Rapids after getting my food and decided to forgo the Wesco popcorn this time.  I was really hungry at that point so I popped the box open to get to the fries.  The menu says they're beer battered and they are but they're pretty lightly so.  They were delicious but they weren't the thick battered fries I was expecting.  The half pound of them made a pretty good dent in my hunger but there was a tasty sandwich sitting there I had no intention of letting go to waste.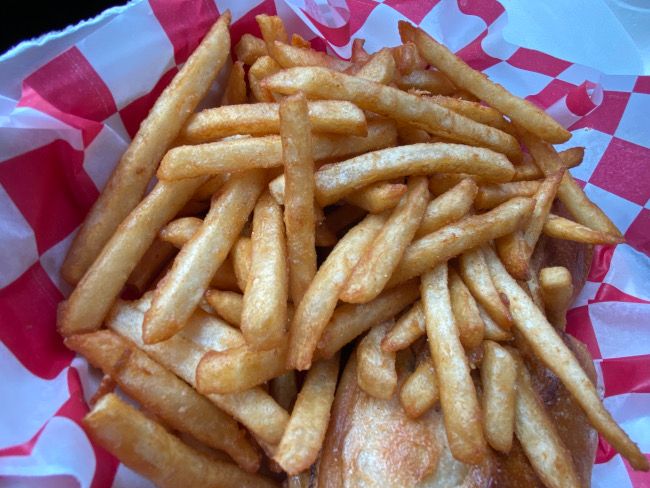 The Cuban sandwich has pretty much everything you want in a Cuban sandwich. The sandwich is stacked with pulled pork, shaved ham, Swiss cheese, Mrs. Dogs Mustard, and sweet hot pickles.   It's served on a toasted Artisan hoagie.  The pickles and mustard really made this sandwich pop.  The meat was delicious but man did those pickles add just a little kick while the mustard doubled down on the vinegary tanginess.  This was a really delicious sandwich and I was quite sand when I looked down and my to-go box was empty.
I never expected that I'd be in Spring Lake when I left my house Friday morning but dang am I glad I was.  Small Town Sandwich Shop is everything I like to find in small deli's like this.  The sandwich was delicious and I'm always happy when places like this have a fryer.  Chips out of a bag are fine but I really like french fries and it makes me super happy when I can get them as a side.
I don't get to that part of Ottawa County very often anymore but this is a place worth a stop on your way to or on your way home from a day at the beach.