Lakeshore Market
May 28, 2020
A Facebook page was started when the Safer at Home order went in to place as a for people looking for restaurants to support knew who was open.  Man, I wish I had had this idea because the Kalamazoo Menu Facebook pagehas exploded.
I'm not gonna lie, there has been more than one occasion where J and I have seen something on that page and decided where we were going to order dinner that night.  Sometimes it comes from customers..sometimes it comes from the restaurant or the restaurant staff.
One of the few places that I've found because of that group is Lakeshore Market.  I've always known about the small convenience store on the south side of Portage but thanks to this group, I just found out about some delicious food that has recently started being served out of a small kitchen in the back.
Lakeshore Market is on South Sprinkle Road where the road runs between Long Lake and Austin Lake on the far south side of Portage.  The market itself has been there for quite a while.  I've passed it several times on my travels but I never knew there was a deli inside.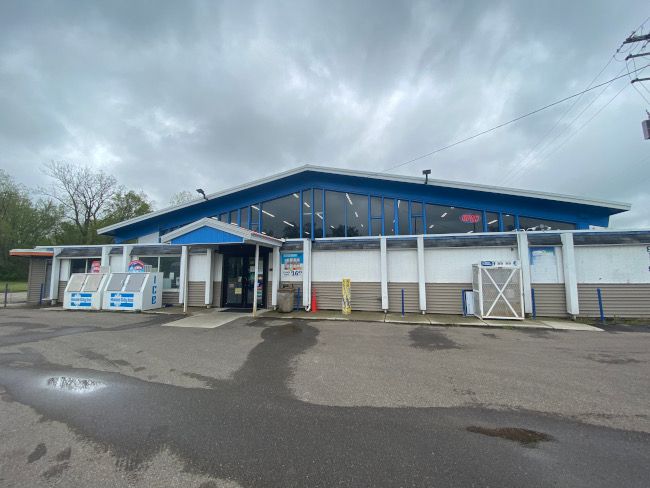 The food service area is in the back of the market.  I didn't really see it at first but I could smell.  You have to go past the drink coolers in the back to find a small display case and kitchen.  The menu is handwritten on the wall and the guy behind the counter wearing a Chicago Cubs face mask and hat quickly greeted everyone who worked up while he was juggling several orders at once.
About that guy…I haven't been able to get the whole story but he should look familiar to Kalamazoo foodies.  The guy that is running this small operation is the original owner of Ray Ray's Italian Beef and Sausage.   I can't quite get out of anybody why he's no longer the owner but apparently he sold the business and is in the process of opening up a new place near Pizza King in Portage.
The menu has a lot of the same thing that are on Ray Ray's menu except they don't have the Italian beef.  They do have Chicago style Rib Tips and I do my best to never pass up BBQ.
The rib tip dinner came with two sides.  There are several options but I just asked for a double order of fries.  It took a little less than 10 minutes for my food to be boxed up.  Most of that time was just waiting on the fries to cook.  When it was done, he handed me a very heavy to-go container to take to the cashier in the front of the convienence store.  I grabbed a Pepsi on my way up there.  The whole meal cost just a little over $11 and there was a lot of food in the box.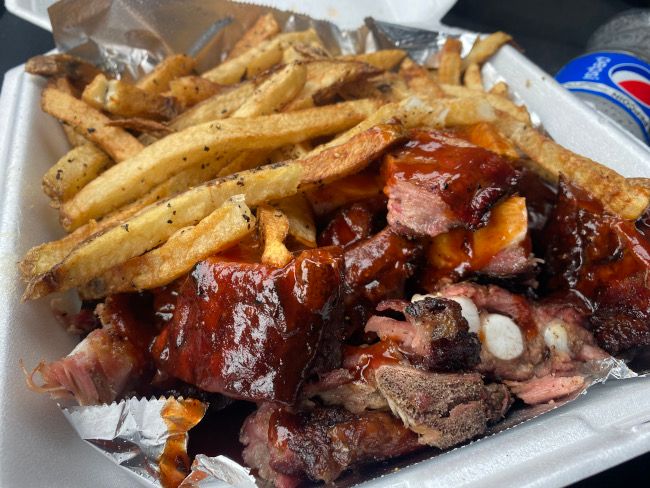 I started with the fries because I knew they would go bad first.  The fries are delicious fresh cut fries with a golden brown exterior and slightly greasy texture.  They have a delicious seasoning of salt and cracked black pepper.  I could eat a whole meal of just these fries.
I was doing some work while I was trying to eat lunch so it was quite a while before I was able to get in to the rib tips.  They were really saucy and hard to eat in the car but I pushed through.  Pretty much all of the rib tips in the box were super tender and just fell off the little bones that are left.  The meat is covered in a thick, sweet sauce that has a little bit of the cracked pepper seasoning which gave it just a little bit of a kick.  These were some of the best rib tips I've had in Kalamazoo.
The meal also came with a slice of garlic bread.  I almost missed this because it was just a foil wrapped piece of bread.  It was a pretty simple side.  A small slice of bread with garlic, butter, and cheese.  It worked as a nice capper to a delicious meal.
Lakeshore Market is pretty out of the way for most people but it's definitely worth a trip down Sprinkle Road if you're looking for something different.  I've seen a lot of people going out of their way recently on the Kalamazoo Menu Facebook page…and even seen some days where they ran out of food.  I can honestly say I probably wouldn't have found this place without the help of this Facebook group and I am so glad that I did.