Chicken House
May 18, 2020
Hi!  I'm still here.  I'm still eating out… a lot.  It just feels weird writing blogs for places that I can't get the whole experience for.
There are still some places that are operating somewhat normal.  Places that are strictly carry-out haven't changed much.  We've eaten at a few of those.
A couple of weekends ago, J saw a Facebook post about a greenhouse in Comstock Township doing a big sale of hanging baskets that a wholesale buyer ended up not buying due to the pandemic.  They were pretty cheap so she suggested we go grab a couple for us and a couple for her mom.
We all piled in the car and J asked if there was someplace east of Kalamazoo we could pick up lunch.  It was a little out of the way but we had been hearing about a chicken place on Gull Lake that we finally had an excuse to try.
Chicken House is on East D Avenue just to the west of Gull Lake Drive on the very southern tip of Gull Lake just outside of Richland.  The building is tiny.  It was an ice cream place for several years before the people that brought you Kitchen House in Richland opened a chicken sandwich shop just as this pandemic was going global.
Chicken House does phone orders during the day but for the most part, they're a walk up business.  There are a few parking spots on either side of the building and we happened to find one right next to the entrance when we pulled in a little after 11:00 on a Saturday morning.
They're asking people to wait outside until the party in front of you is done ordering.  The inside of the building is only big enough for a couple people to be in.  There's an order counter right at the front and a small kitchen that takes up the back half of the building.
The menu is hanging on the wall next to the cash register.  There's not a lot to choose from.  The place is called Chicken House for a reason.  It's literally chicken and burgers.  We put in our order for a Nashville Hot, an Original Clucker, plain Tri-Taters, loaded Tri-Taters and two slushees for the kids.  The cost was a little over $25 before tip.  The lady working the register asked what kind of car we were in so she could bring the bags of food out to us once it was ready.
It took maybe ten minutes for her to come out with our food.  I immediately unwrapped my Nashville Hot and dove right in.
The sandwich is a very crispy yet very juicy piece of fried chicken thigh with Nashville Comeback sauce, dill pickle chips and coleslaw on a brioche bun.  The sandwich had a little kick to but was not overpoweringly spicy.  The chicken itself was so good.  It had such a great crunchy bread but using the thigh over a breast makes the sandwich really juicy.
J picked the Original Clucker.  This sandwich is the same deliciously fried chicken thigh with Duke's mayo and pickle chips on a brioche bun.  It's been a couple of weeks since we made the trip out to Gull Lake to get one of these sandwiches and J has been asking to go back ever since.  She kept saying how perfectly crispy the sandwich was and just can't wait to get another.
I ordered the Plain Tri-Taters as a side and honestly, I didn't like them at all.  Now, I need to preface that by saying I don't like tater tots either and these are basically giant tater tots.  I would much prefer some kind of fries.  I ate a couple of bites thinking maybe there was something wrong with me (I mean, there probably is), but they did nothing for me. There just isn't a lot of flavor in tater tots.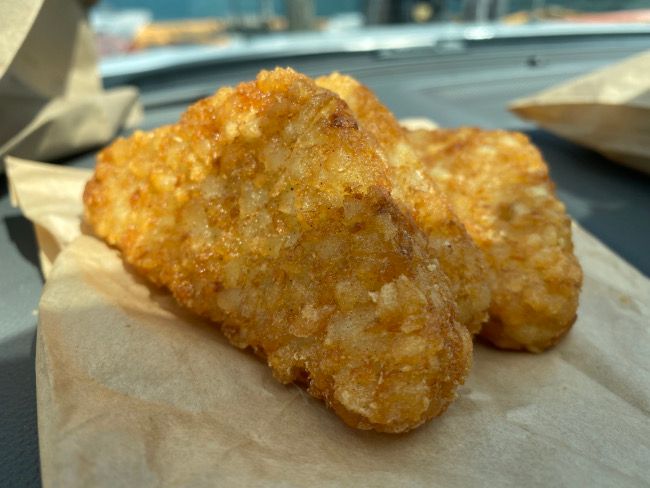 J did the Loaded Tri-Taters and, as someone who likes tater tots, she really liked these.  The loaded ones come with cheese sauce, bacon, and jalapenos.  She pulled the jalapenos off but loved the rest of it. We had vastly differing opinions on the Tri-Taters but we also have vastly different opinions on tater tots in general.
Y'all, Chicken House is worth a drive out to Gull Lake.  This is such a great little sandwich shop tucked into an area of Richland that's a little off the beaten path for most people.  I can honestly say I have never been down that road and I've never had a reason to…now, there is a really good reason to make the drive and pick up a couple of some of the best chicken sandwiches in the area.