Lafayette Creamery (Texas Township)
July 21, 2020
J wanted to go for a hike.  I wanted ice cream.  We found a way for me to cancel out any calories I burned on that hike by doing both.
We've really gotten to know the trails in Southwest Michigan over the last five months.  We started out by going to the only one we really know…Asylum Lake.  Like anything else, we started to research and found so many more great places.
I really wasn't in the mood for a hike but I made a deal with J.  I'd go if we could get ice cream.
She knew I was scheming something.  We had to pick up the kids' dance costumes that they never got to perform in from their dance studio off 9th Street.  I suggested we go to Al Sabo from there and J knew immediately what I had in mind.
We did about an hour hike then headed to Texas Corners where Lafayette Creamery set up shop in part of the old Family Video building on South 8th Street and West Q Avenue.  The Dollar General takes up most of the building but there's a separate entrance on the north side of the building next to a Hungry Howie's that's kind of hard to see until you're actually in the parking lot.  We noticed some people eating ice cream on a bench out back and that's how we actually spotted the place.
We all masked up and headed inside.  The space is pretty big but also seems kind of empty.  There's not much seating and most of the room is the work area.  There's a cash register kind of at the front and a few soda shop style seats next to it.  The ice cream case is further down and kind of in a narrow area.  You have to walk past people to really get in line and it creates a traffic jam.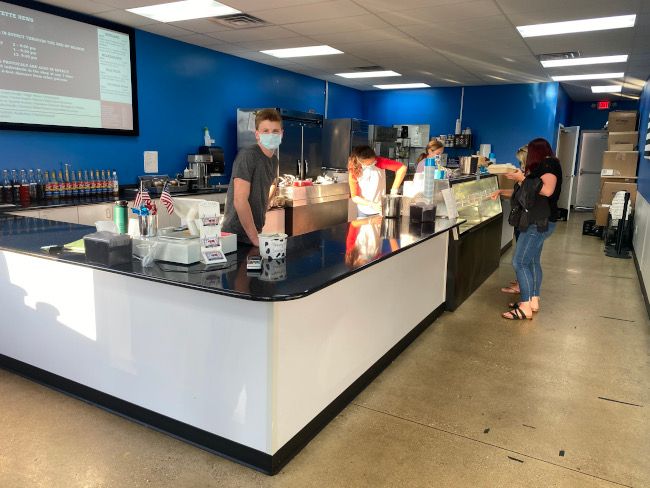 The ice cream at Lafayette Creamery is all their own stuff.  They make some delicious flavor combinations.  I've picked up a few pints in stores before but the flavors are usually pretty limited.  They have some of the ice cream shops staples but they also have some truly unique, interesting flavors of their own.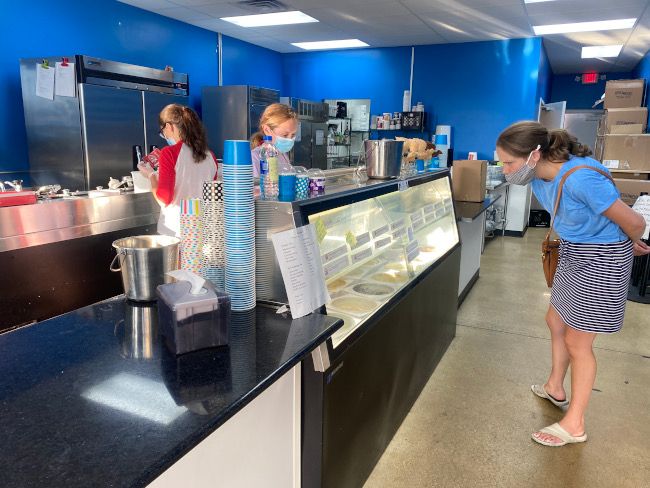 I'm super boring and went with one that didn't surprise anyone.  I picked a double scoop of Chocolate Chip Cookie Dough.  The creamy vanilla ice cream has big chunks of cookie dough and flat chocolate chips mixed in.  It's an ice cream shop staple and their take on it is super tasty.
J ordered Strawberries & Cream.  J said this one is essentially strawberry ice cream but it's really fresh.  Lafayette claims on their website the recipe is simple.  Fresh strawberries, a little sugar, and milk.  J said she liked it but next time will try something a little more daring.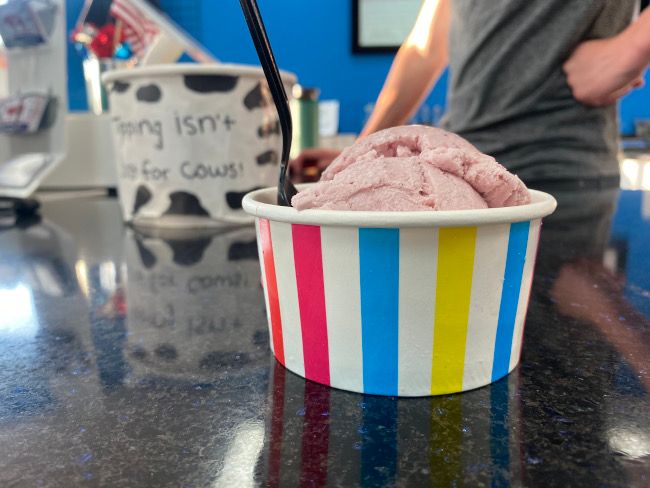 L got a super interesting treat.  She picked Giggle Moon. This ice cream is a combination of Blue Moon and Lemony Yellow.   She ate it too fast so I never got a bite but she said it was a really cool combination with the tartness of the lemon and the sweetness of the Blue Moon.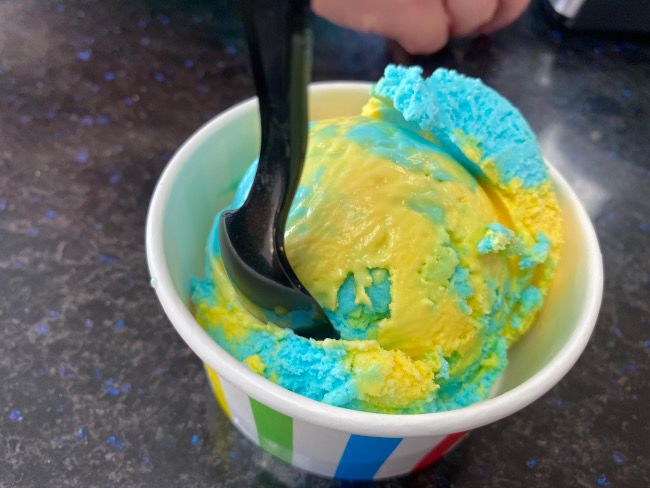 I'm fairly certain B picked his ice cream based only on the name.  He selected Rainbow Dash.  He made a good choice though.  This ice cream is also Blue Moon but it has M & M's mixed in to it.  Blue Moon  has always been our kids favorite ice cream but B has been leaning more towards mint chocolate chip.  I'm 99% certain he picked this because of the name but he really liked it and it was a fun way to eat Blue Moon ice cream.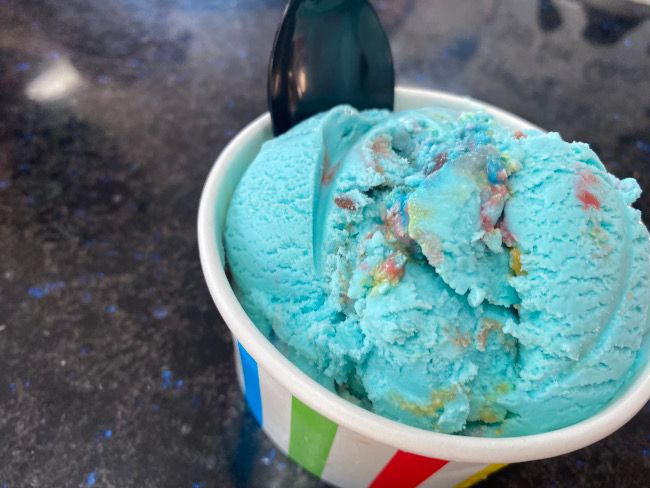 Our total for three single scoops and one double scoop was a little over $16.
Lafayette Creamery is a great local ice cream spot.  I love that it's a place that make their own ice cream so you're definitely going to get something different at Lafayette than you would at ice cream joints that sell Sherman's or Ashby's.  They just opened a second location in Paw Paw so word is getting out about this local gem.  We continue to go on hikes and we continue to seek out ice cream places afterwards….Al Sabo may become a favorite go-to of mine due to it's proximity to Lafayette Creamery.