Buddy's Pizza (Portage)
July 18, 2020
It's happening!  Buddy's Pizza is in the Kalamazoo Metro!
I accidentally fell in love with Buddy's Pizza not long after we moved to Lansing back in 2008.  I had never heard of Detroit Style pizza.  I didn't really love thick crust pizza anyway.  Even being from the Chicago area, I always preferred the tavern style Chicago pizza from the south side over the much more famous north side deep dish.
My family from Illinois came up for a weekend because they wanted to go to a Tigers game….and see me and J…but mostly a Tigers game.  I did a blind search on Google for "Best Pizza in Detroit" and found Buddy's Pizza on Conant Street.
My family thought I was crazy for taking them in to that part of Detroit but once those thick steel pans were set down in front of us, my entire family was hooked.
I've never been back to that Conant Street location but I have been to several Buddy's over the years.  Grand Rapids, Dearborn, Livonia……any time I would get close to one, I would put in an order for carry-out.
Now, Buddy's got close to me.
Buddy's Pizza opened another West Michigan location earlier this week on Westnedge Avenue just north of the I-94 interchange in Portage.  The building it's in has been a Bennigan's and an Old Chicago…but now, while the exterior looks familiar,  it's uniquely a Buddy's Pizza.
I had assumed I was going to give it a couple of weeks to beat the rush but I just couldn't wait.  J asked me Wednesday night what I wanted for dinner and I didn't hesitate.  There was only about a 35 minute wait to pick up an order so I told her to figure out what she wanted and order a couple of pizzas that I would pick up on my way home from work.
I assumed there would be a dedicated carry-out area and I was right.  I went around to the back of the building and saw a couple parking spots for carry out next to a sign painted on the wall leading you around the corner on the north side of the building.
In non-pandemic times, you'd be able to go into a little carry-out area but right now, they have an employee outside asking for names then feeding them to the kitchen.  Just a heads up, pay attention to the order number when  you order online as that is what they ask for  first.  If you don't have it, they're able to look up names but it goes quicker for everyone with the order number.
We're not doing any sort of dining in right now.  It really doesn't matter how "good" the safety protocols are or if we're sitting outside.  We don't trust other people…not restaurants mind you..but other patrons.   People are jerks and we're not taking chances.  I'm doing this blog right now without ever going inside the building because I'm just so darn excited about Buddy's Pizza being  here that I want to blog about it now.  Once we get past this, we'll dine in and I'll write another blog but I really wanted to get something up quickly.  If you are the type that has no problem eating out right now, in addition to a large indoor dining area, there is a pretty good sized patio on the north side of the building for outdoor dining.
J put in an order for a 4 square pizza with cheese and basil, an 8 square DPTV and an order of Buddy Bread.  The total came out to a little over $40.
The kids were super excited I was bringing home Buddy's Pizza and L met me at the back door.  J and I have been talking it up for a while and both like the Detroit style pizzas from Jet's and Little Caesars so L was excited to see what Buddy's was all about.
The cheese pizza was pretty much just for J.  She added on some fresh basil just because fresh basil makes everything better.  If you're not familiar with Detroit style pizza, this is the kind of pizza to really get a good look at everything.  The crust is so buttery and delicious when it comes out of those rectangle steel pans.  I like Chicago-style pizza so much because it's not really thick crust.  The crust is actually pretty thin but the toppings are piled on which makes it a "deep dish."  With Detroit style pizza, the crust is actually that thick and the toppings are applied in a thinner layer more in line with a typical pizza.  The difference is the crust is so buttery, airy, and so full of flavor that you forget you're eating a pizza.  The toppings are layered somewhat similar to Chicago style with cheese first and sauce on top.  Buddy's Pizzas go pretty light on the sauce to really make that crust stand out.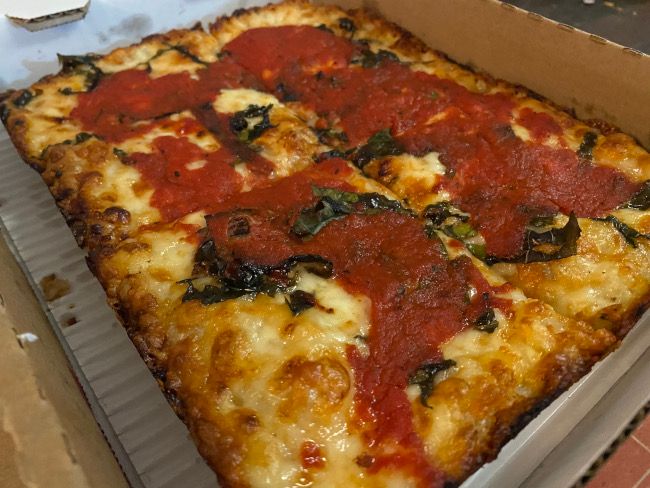 The DPTV pizza I ordered for me and the kids is similar but has both traditional pepperoni and Old World Pepperoni.  I like the Old World Pepperoni.  It gets so crispy on top of the pizza.  It makes the pizza a little bit spicier which is always a concern with B.  He mentioned it was spicy but never complained about it.  He actually went back for a second slice..actually both kids did…and both said they thought the spicier pepperoni was "actually really good."
J also added on an order of Buddy Bread…and we probably should have gotten two.  There are quite a few of the little garlic sticks in the bag but they were a big hit with everyone.  L kept coming back to the kitchen and asking if there was anymore bread.  The garlicky bread had a dusting of parmesan on top and came with  dipping sauce, J picked ranch, but no one used the sauce.  The bread sticks were pretty delicious all on their own.
So…yeah..we're super excited Buddy's Pizza is open in Portage.  It's not going to be an every week thing…especially since they don't deliver…but it will be a pretty regular thing.  There are so many people that try to imitate Buddy's Detroit style but nothing beats the original.