Spad's Twisters Soft Serve Ice Cream (Parchment)
July 28, 2020
Hey, look!  Another ice cream blog post.
To be fair, this one's a little different.  There's no hike involved…well…there kind of is but not on this particular night.
We actually went out for ice cream to celebrate my daughter's "half birthday."  Yeah….that's apparently a thing now.  There's no parties or presents but there's apparently still ice cream.
We let her pick where she wanted to go for ice cream.  She picked Spad's Twisters Soft Serve Ice Cream (from here on out, I'm just referring to it as Twisters), in Parchment.  I had never been but J and the kids stop there occasionally after they go hiking in Comstock Township somewhere.
Twisters is on the south side of Parchment on Riverview Drive.  It's a stand alone building across the street from the Parchment Community Library.  There's a small parking lot on one side and a drive thru lane on the other.  They have a small concrete patio with a few tables but there's also some picnic tables closer to the road underneath some shade trees for those hot days when you don't want your ice cream to melt so fast.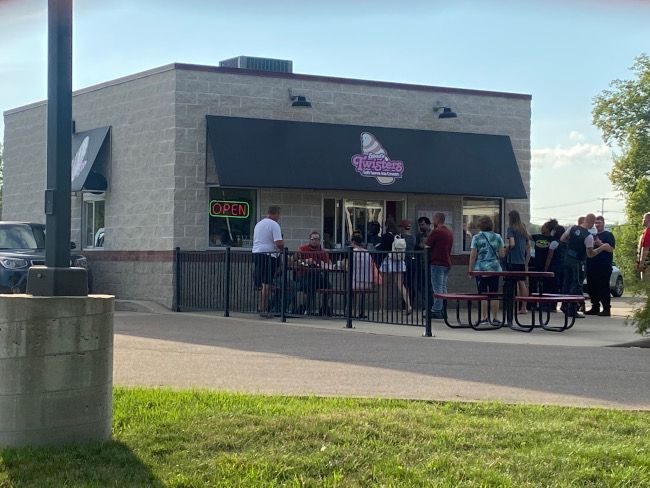 We decided to just walk up and get our ice cream because the drive thru line was long but the walk up line was short.  There are two windows.  One to order from and one to pick up.  The flavors for their various treats are listed on a board in between the two with the actual menu on the wall next to the pick up window.  We just barely made it.  Not long after we sat down to wait for our ice cream, about 30 motorcycles pulled in to the library across the street and walked over to get ice cream.
L picked Twisters because she wanted a Glacier.  She got a Blue Raspberry Glacier which is a slushee with vanilla soft serve ice cream in it.  This is the reason we drove to Parchment.  She didn't hesitate when J asked where she wanted to go for ice cream because she gets the best of both worlds here.  She gets a Blue Raspberry Slushee and still gets some vanilla ice cream.
We thought that B was asking for a Glacier too but what he really wanted was a Flavor Burst.  This treat is a cup of soft serve ice cream drizzled with a burst of flavor.  He chose cotton candy  which was drizzled all over the top.  It's like chocolate sauce but there are a whole host of flavors to choose from.
J did the Glacier thing as well.  She picked Lemonade to go along with her vanilla ice cream.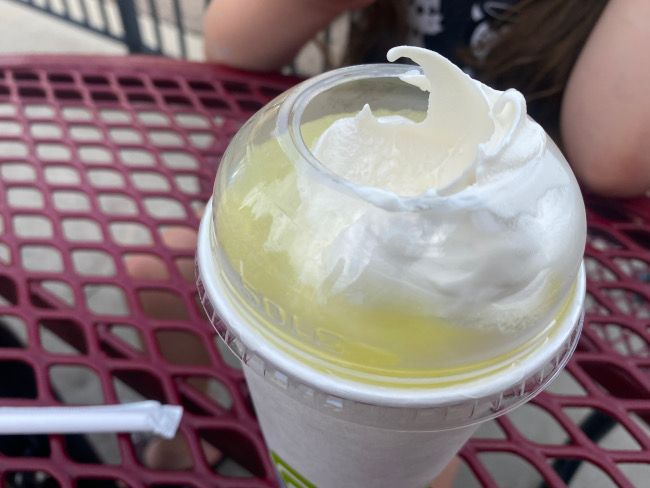 Me?  If you've read this blog enough, you know what I did.  I picked the Cookie Dough Flurry.   Flurries are one of those things that look easy but aren't always great.  Candy distribution is key to a good flurry.  Twisters does it right.  There are big chunks of cookie dough all throughout the Styrofoam cup all the way down to the bottom.  Too many times I've gotten one with all the candy pieces up top and the bottom is just solid packed vanilla ice cream.  That is not the case at Twisters.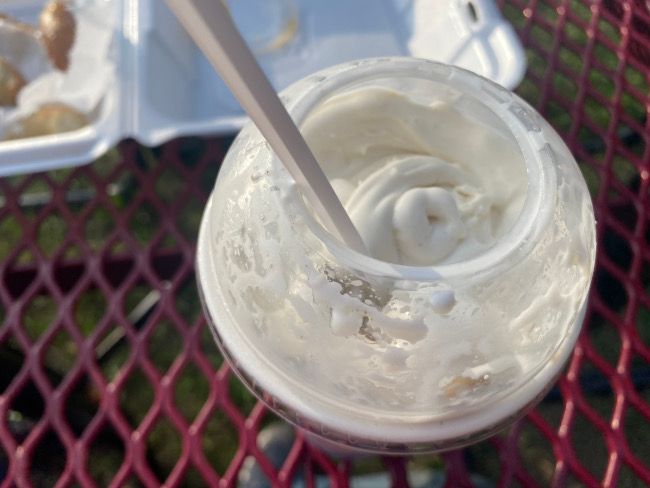 The kids pretty much had ice cream for dinner but J needed some actual food.  In a move totally unlike her she ordered a chili dog.  Chili dogs are the only good way to eat hot dogs but she's a lot like me.  Hot dogs just don't do much for either of us.  For some reason, the lure of a cheap, ice cream stand chili dog was too much.  The steamed hot dog comes on a basic white bun with chili, mustard, and cheese.  Both kids looked her like she was crazy but she really enjoyed it.
B was also asking for a pretzel for some reason and lucky for us, they actually had soft pretzels.  We got one for all of us to share because B was going to eat the whole thing.  Cheap pre-made pretzel with salt and a side of cheese on the side.  Nothing fancy but the kind of cheap, generic pretzels people really enjoy.  B ate maybe half and we split the rest of it up and passed it around the table.
We got a lot of food from Twisters and it was still under $20 before the tip.
Twisters is one of the kids favorite ice cream places.  Even though it's pretty simple soft serve ice cream but fancy it up with some added flavor.   Parchment is kind of the other side of the world for us as far as Kalamazoo goes but we do get their occasionally and neither kid minded the drive once they found out where we were going.