The Big Dipper
June 27, 2020
Leaving Nana and Grandpa's house is hard.
J has been working from home since March and since working from home could really be done from anywhere, she took the kids down to her parents in St. Joseph County for a long weekend.  It was  hot so the kids could swim in Nana and Grandpa during the day while J hung out in the basement doing what she needed to do for work.
I, of course, still had to go in to my job everyday so they went without me.  J decided to stay until Saturday night and told me to just come down when I got off work on Friday.  Her dad had something he needed to do on Sunday without the kids around so we swam all day Saturday then headed home around dinner time.
We weren't really hungry for dinner and the kids were sad about leaving the lake.  J suggested ice cream and wouldn't ya know it?  There's an ice cream place on our way home.
The Bigger Dipper is on the corner of Eliza and Grand Streets in downtown Schoolcraft.  It's easy to spot at the last light out of town if you're heading south on US-131 towards the state line.  It's a small white building with very little signage but one of those big tow behind message boards sits out front letting you know it's open.
The kids have not been in very many places in the last four months and I'm absolutely amazed at how well they've adjusted to wearing masks in public. Neither kid argues and both of them really try hard to keep their noses covered.  They know if they want ice cream, they're gonna have to wear a mask until we get back outside to eat it so both of them very willingly masked up and we headed in to see what they have.
The inside of The Big Dipper isn't very big.  It's set up to accomodate a lot of people getting ice cream but there's no place to sit or anything. It's a get in and get out place with a few picnic tables in the lot between the building and Eliza Street.
There is of course, the ice cream scoops but they also have a small menu of other items. It's pretty hard to see behind the counter back in the corner.
Luckily they also had it printed on sheets of computer paper and hung next to the door.  That was actually a little easier for me to read and I'm sure it helps people decide before they get in so they can get in and get out as quickly as possible.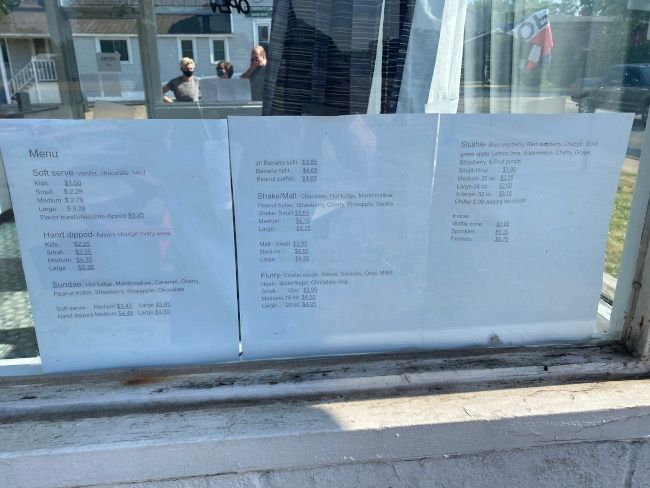 The kids went straight for the ice cream cooler.  I said earlier they're getting pretty good with the masks but they're still having a hard time touching things.  They both plastered their hands and faces on the glass before we could stop them. We quickly backed them both away and I picked B up while they were scooping his ice cream so he could see.
The Big Dipper is scooping upSherman's Ice Cream so that means they had Superman.  B still calls it rainbow and B likes rainbows so that's what he ordered.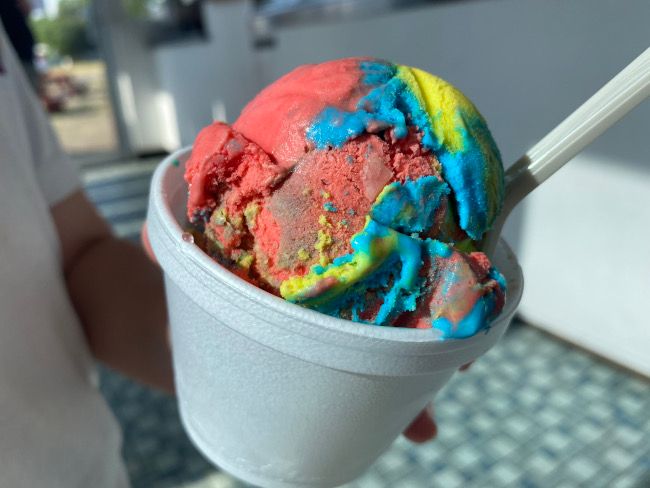 L has really been on a cookie kick lately and I think I'm pretty much to blame for that.   She picked the Cookie's and Cream and that's likely what I would have picked too if I was getting scoops.
J also went with dipped ice cream and guess what?  I forgot what she got.  I should probably write these blog posts right after we eat at some place like I used to do when I started blogging about restaurants almost 12 years ago…or at least take notes.  But in any case, here's a picture of whatever it is she got.
I did what I usually do and ordered a large cookie dough Flurry.  The soft serve vanilla ice cream had chunks of cookie dough mixed in to it.  The machines they use don't mix as well as DQ's for Blizzards but it's still delicious and much easier to eat that scooped ice cream with cookie dough pieces.
Our cost for ice cream at The Big Dipper was just over $16.
We have passed The Big Dipper so many times on our trips from Kalamazoo to St. Joe County and never stopped.  The only other time we got ice cream from there was one Fourth of July when we were down there for the parade.  It's kind of amazing we've never once stopped on the way home from J's parents.  I guess it's something we need to do more often because ice cream for dinner made everyone happy.