Grub 'N Stuff
June 27, 2020
It used to be you couldn't tell me much about a restaurant because chances are, I had already been there before you.  That was in the before times.  In COVID times, a fantastic Facebook group popped up to help people find new food and places that were open for take out during the shutdown.
The Kalamazoo Menu Facebook group has really opened us up to places we either hadn't been or hadn't been to in a while.
One of the places I started seeing a lot about was Grub 'N Stuff.  I had seen this place open up on Riverview Drive before the shutdown but hadn't gotten there yet.  They stayed open and did carry-out and the pictures people were posting were pretty fantastic looking.
Grub 'N Stuff is the newest business on the corner of Riverview Drive and Hotop Avenue.  This small, well used building has been a number of business over the years but they always seem to have one thing in common.  It's typically a soul food or BBQ joint.  This newest iteration keeps that tradition alive serving smoked BBQ, fried fish, chicken, and a handful of sandwiches. 
I pulled in to the parking lot about 11:15.  A man came out with a menu and said they actually weren't open yet.  The owner was finishing up a catering order and they were hoping to open around noon.
I came back just before 12:30.  The open sign wasn't on but I called from the parking lot to place an order.  No one picked up.
I started to leave again and another man chased me down in the parking lot and said they just missed my call.  They were ready to start taking orders.  I went back and parked and as I was getting ready to call, a third man comes out and asks if I know what I want.  I told him I just wanted the rib tips and fries.
He went back inside to box everything up.  He came back out a few minutes later, passed the box through my window.  I handed him $12 in cash for the $8 meal and told him to keep the rest.
I was a little bummed I couldn't go inside to see if they've done any improvements on the place.  I'm pretty sure I've stopped in for every (or at least most) new restaurant that has went in to that spot in the last 11 years (Beale Street BBQ,  Jadden's Precious Soul Food Cafe, American Legion 118 Vet's Cafe) and there has never seen to have been much done inside.  The restaurant turned over pretty quickly this time so I'm curious to see if they've done anything.
I started with the fries when I got back to the office.  I typically do this with rib tips because I love dipping the fries into the BBQ sauce.  The fries are nothing special.  They're out of the bag food service fries but the they're sooooo good in the sweet sauce that accompanied the tips.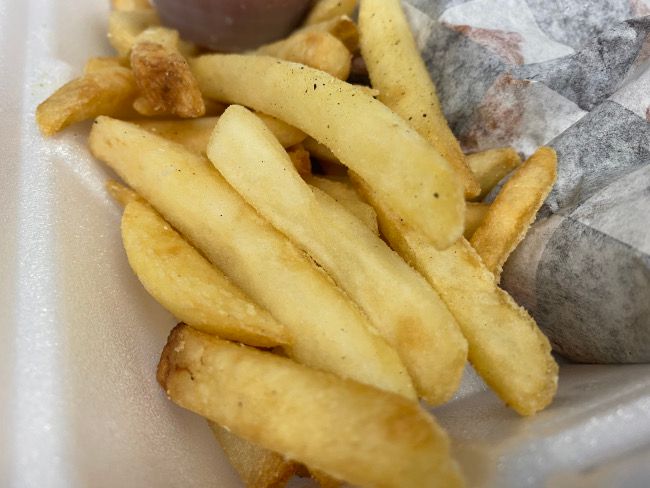 The rib tips come in the box separated from the fries so the fries don't get too soggy from the sauce.  There is a pound of tender, smokey tips in the order and it didn't take me long to go through them. Many of the small chunks of spare ribs just fell right off the bone and did the whole melt in your mouth thing.  The sauce was super sweet but had the flavor of the stuff you get in the big bottle from GFS.  That's not a bad thing…it's a really good sauce and it's that super sweet thing that I've come to expect on delicious tips.
This corner of Riverview Drive has seen a lot of turnover through the years.  I say this with every business but I really hope this one makes it.  The food was really great and my quick conversation with the owner left a big impression.  They could have let me drive out of the parking lot a second time.  I wouldn't have come back that afternoon but I would have come back a different day.  Chasing me down that day gets them repeat business sooner.  I love a place I can get delicious BBQ not too far from work.