Kukui's Shaved Ice
September 22, 2020
Is shaved ice a think in Michigan?  Growing up near Chicago, it was every where.  There were shops all through out the suburbs and every Little League concession stand had a sno-cone machine.  I guess I just assumed it was a thing.  
We spent Labor Day weekend in St. Joseph County going between my in-laws near Sturgis and my cousin's place near Three Rivers.  
I actually had to come back a day early.  I had to be at work at midnight on the holiday.  I didn't want to make the kids and J come back if they weren't ready so I drove separately to the lake so I could make an early exit Sunday and try to get a few hours of sleep. 
It wasn't as warm as we were hoping for that weekend and it was pretty windy.  We didn't take the boat out or do a whole lot of swimming. 
Sunday afternoon, J asked if we wanted to go in to Sturgis to get the kids a treat.  She had seen a Facebook page for a shaved ice place that she wanted to try. 
Kukui's Shaved Ice is just east of downtown Sturgis on Chicago Road.  The restaurant is right on the corner of Chicago Maple in a building that used to be  El Taco Loco.  There's a small, oddly shaped parking lot right in front of the building accessible from either street.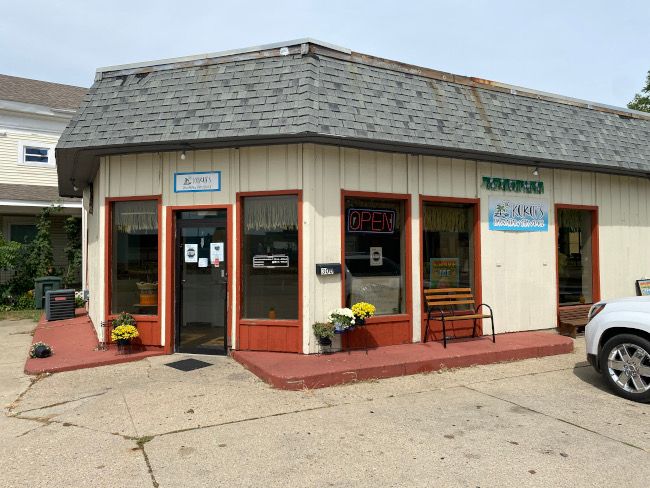 Kukui's is much bigger than it needs to be and you can clearly tell there used to be a Mexican restaurant inside the building.  When you first walk in, there's a large waiting area that really isn't needed at the moment.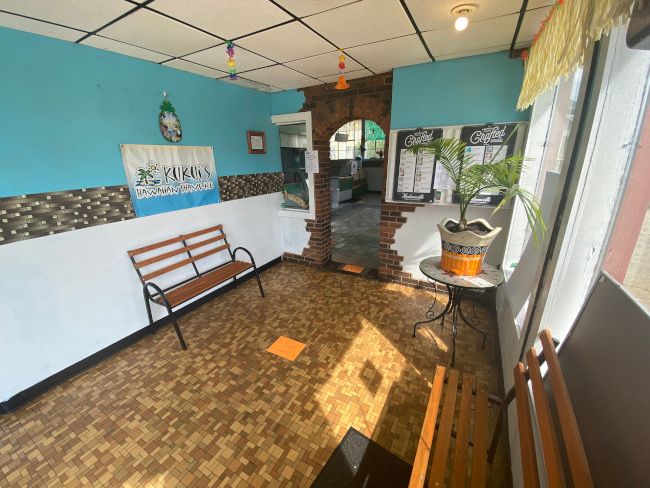 The order counter is through the archway into another large room.  There is room for quite a few tables but due to COVID, there's only one right in the corner at the moment.  The lone employee was sitting behind the cash register when we walked in.  There is an ice cream freezer between the cash register counter and the shaved ice machine.  The flat top and grill from the old restaurant is still there but doesn't look to be getting much use even though there is a small food menu displayed above the cash register.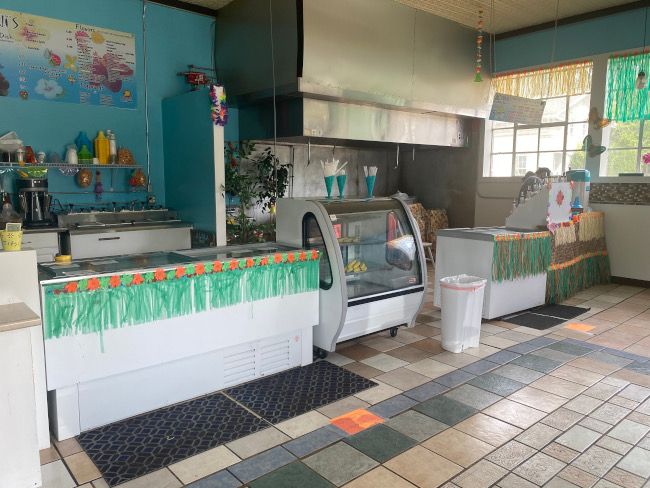 We told the guy working we were going to get four shaved ices.  We picked a small for B and a medium for everyone else.  We found out quickly the small would have been sufficient for everyone.  They really pile the ice on top of the plastic flower bowls.  
There are 30 flavors to choose from and you get up to three with each shaved ice.  Additional flavors are possible but extra.  They also have a list of flavor combinations to make different tasty concoctions.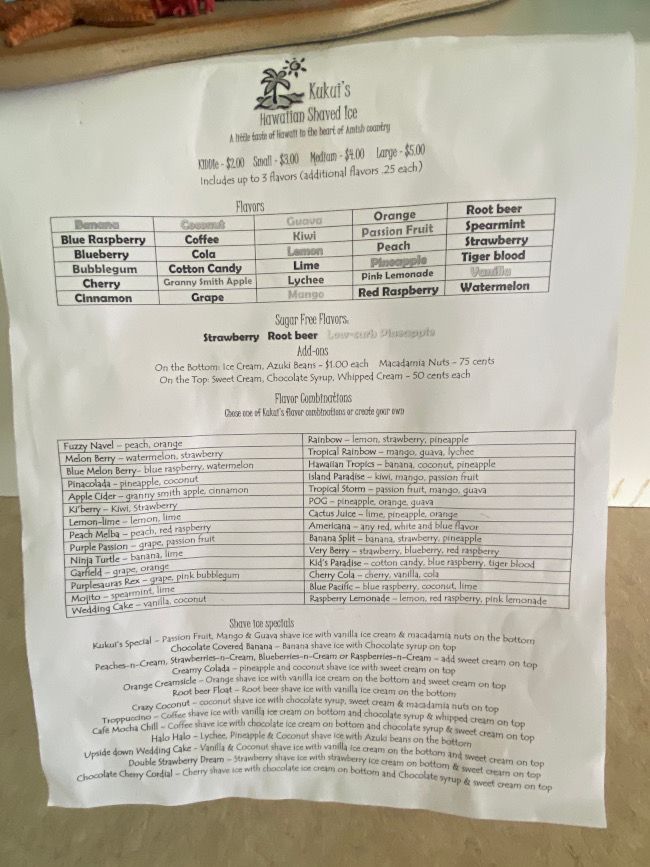 B got the small and even that was a lot for him to handle.  He picked orange and green as his flavors which was actually orange and lime.  We hadn't planned on staying to eat but B struggled to hold his due to the size so we set it on the table for him.  Since there was no one else in the restaurant, we kept to ourselves in the corner and quickly ate so we didn't make a mess in the car.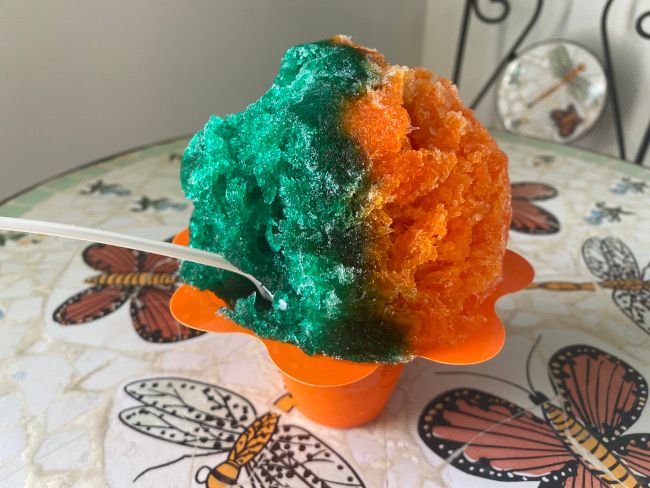 I, being my super boring self, just got orange.  Orange is the only flavor I like on anything.  I drink orange pop, orange Gatorade, I eat orange Starburst.  I always get orange.  I'm glad I stuck to the medium because the size is a lot to handle of
L all that orangey goodness. 
L also got an medium and she picked lemon and pineapple. An odd citrusy combination but she picks odd flavor combos like that all the time.
J's pick was coconut and and (something else that didn't change the color of the ice…I'm blanking on what it was). Like L and I, she got the medium and savored every last tiny shred of flavored covered ice.
The four shaved ices cost us right around $15 and you really get your money worth with these things.
Shaved ice (or sno-cones) were a staple growing up for both J and I. I think we both had the Snoopy Sno-Cone machine and I would always get one after my Little League games. There's not much to Kukui's in Sturgis but they deliver on what they promise..shaved ice.