Julia's at the Pavilion
September 3, 2020
We spend a lot of time in South Haven for work.  I always find it funny that my superiors in Grand Rapids think that South Haven is close to Kalamazoo….like, they don't realize Grand Rapids is closer to Kalamazoo than South Haven is.  I don't mind it though….I like going to South Haven.  
My colleague and I had a rather easy assignment that wrapped up a little after 1:00.  I was parked at the pavilion behind the Phoenix Street businesses.  As we walked to the car, my co-worker said he was going to run over to the coffeehouse nearby to grab a sandwich.  I hadn't eaten  yet so I joined him.  
Julia's at the Pavilion is a really large coffeehouse on Huron Street….right next to the pavilion.  The restaurant actually looks like a large two story house that fits right in to the summer tourist town.
We entered on what's probably actually the backside of the restaurant.  Right off the parking lot by the pavilion, there's a large outdoor patio with picnic tables and umbrellas.  This was here pre-COVID just because it's such a great use of the space.  This ptio is a pretty nice place to relax with a cup of coffee and some baked goods before heading over to the Farmer's Market on Saturday morning or just before getting your vacation going all summer long.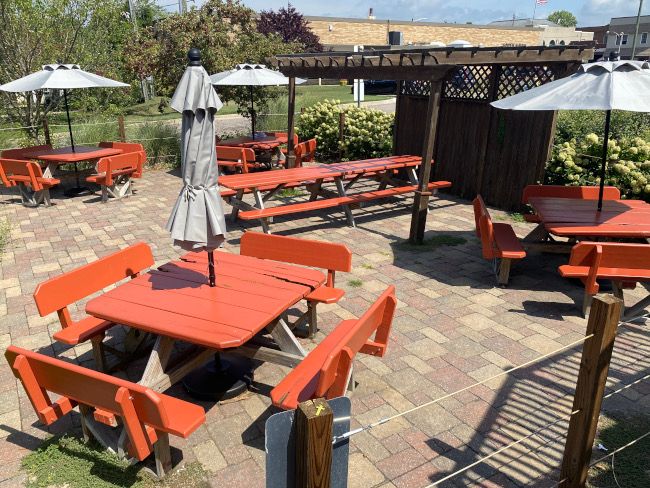 Inside the restaurant, there is a long order counter and even on this Friday afternoon, it was pretty busy.  The cash register is just about in the middle of room with the sandwich and drink menu written in a chalkboard on the back wall.  The walkway is actually kind of narrow which is a little anxiety reducing right now but everyone was wearing masks and being respectful staying as far away and as close to the walls as they could so we could get by.  
I never knew Julia's had sandwiches because their signage on the outside doesn't mention it.  I also didn't know they had desserts until I was stuck waiting right next to this display case of cupcakes which was really hard to pass up.  
I put in an order for the Wise Guy.  I passed on drink and chips because I needed to get gas on the way home anyway so I'd just grab a Pepsi at the gas station.  The cost was right around $11 before tip.  
There is a small dining area inside and there are a few tables open as the Governor's orders allow limited indoor seating.  Most people were just using these tables to wait for their name to be called then taking the sandwich outside.  We did the same but we took our sandwiches on the road as we needed to get back to Kalamazoo
I waited until I got back to Kalamazoo to unwrap my sandwich.  The Wise Guy a fresh baked hoagie bun with turkey, salami, pepproni, provolone, and basil pesto.  It's heated up which really brings out some juices from the pepperoni and salami.  I always hate waiting an hour to eat but letting this thing kind of soak in it's own juices was nothing but a positive.  The basil pesto was a pretty thin spread on the bottom bun so it added some flavor but really just let the meat be the star of the show.  
OK…so I've been passing this place up for years without ever really thinking about it because the signage labels it as a coffeehouse.  They do have a large coffee menu but Julia's is also a pretty darn good deli.  My sandwich was really tasty to the point I almost went back for seconds when I ended up in South Haven a few days later with the family.  It's not too often my colleagues introduce me to a restaurant…it's usually the other way around.  But co-worker done good on this one.