Blackhawk BBQ
July 28, 2020
Summer time is always fun when it comes to the scheduling game.  My co-worker is on vacation.  Then I'm on vacation.  Change of pace for a few days is good.
I got called up to the Grand Rapids office late last week and started heading north.  I got just passed D Avenue when I got a text asking if I could pick something up in Allegan on my way.  Sure…Allegan is not really on the way but I wasn't in a hurry and I didn't have any pressing matters to get to in GR.
I was on my way in to town a little after 10:30.  As I passed the Riverside Market on M-89, I noticed a food truck and it looked like there was a guy starting to set it up for the day.  I did what I needed to do in town then instead of heading back to US-131 on M-222, I backtracked a little to see if that food truck was open.
Blackhawk BBQ has been operating in the parking lot of Riverside Market on Marshall Street/M-89 on a semi-regular basis for some time now.  Being a food truck, they can and do move but a lot of the time, you will see them posted up in the party store parking lot.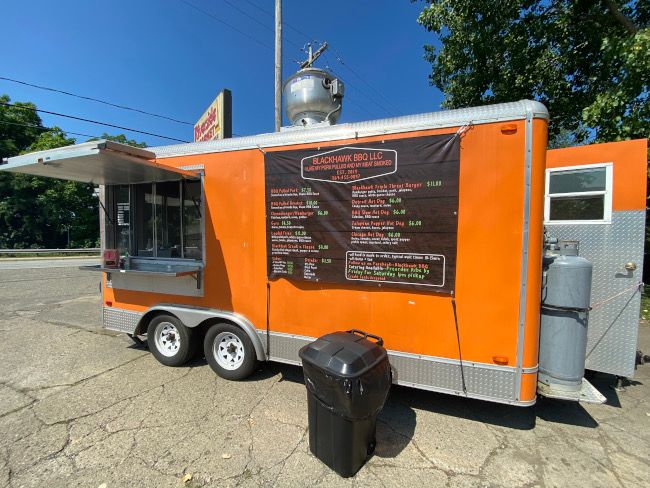 The menu is pretty big for a food truck.  They have all the BBQ staples but there are burgers too.  My eye went right for the brisket but I should have looked a little harder.  There are some burgers…..topped with BBQ that sound pretty delicious as well.
I ordered the BBQ Pulled Brisket sandwich and added on a side of fries.  The total was a little under $14 before tip.
It took a little less than ten minutes for my meal to be boxed up in a foil to-go container.  The fries were cooked fresh so it took a little longer but I'd rather wait than get cold, soggy fries.
I started in on the fries on the car ride back to Grand Rapids.  They were pretty simple frozen fries covered in a seasoning salt but there were A LOT of them.  He really packed that to-go container full.  Had I eaten the fries and the sandwich at the same time, I'm not sure I would have finished everything.  The fries would have been a little better with some BBQ sauce to dip them in.  He offered me ketchup but I said no….I didn't think to ask for BBQ sauce.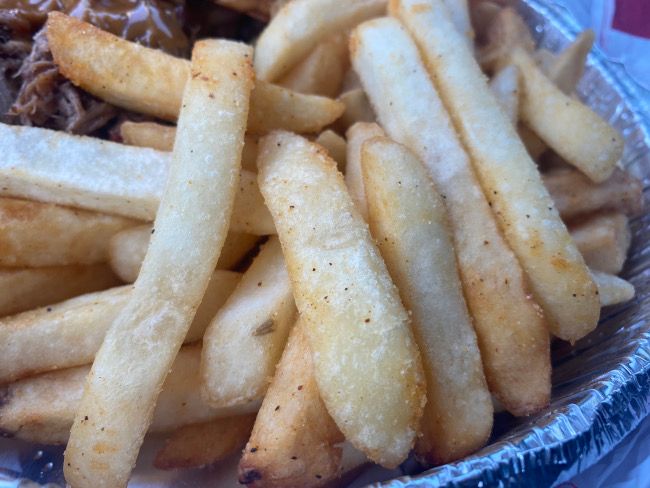 I sealed the container back up when I was done with the fries and it actually helped keep the sandwich warm for my drive back north.  I typically liked sliced brisket over chopped or pulled but this meat was really tasty.  The meat had a real heavy smokiness to it.  There was just a little pool of a dark brown BBQ sauce sitting on top.  It was a nice tangy addition that didn't overpower the smokiness of the meat.
I love a good BBQ food truck.   I mean, that's really been a huge benefit of the food truck explosion over the last five or six years.  When I moved to this area, there really wasn't any place to get good BBQ…..now you can find them everywhere…including inside this little orange trailer parked in a party store parking lot along the river in Allegan.