Big Lick Ice Cream
July 17, 2020
No adventure can end without ice cream…..right?
We took a little road trip last weekend to check out The Dragon Trail on Hardy Pond in Newaygo County.  We've really taken a liking to hiking during this pandemic and we're starting to explore and seek out new trails the way we used to do that with breweries.
We did about  two hour hike before heading in to Newaygo for lunch.  We picked up our meal and some drinks from Newaygo Brewing Company then headed out to Riverside Park to eat.  The kids know playgrounds are still off limits for us and have just come to accept that.  They did so well between a long, hot hike and lunch, we decided ice cream was in store before we headed back towards Grand Rapids.
There are a couple of ice cream shops in Newaygo but I headed towards the one on the south side of town since that's the way we would be heading.
Big Lick Ice Cream is on Adams Street…which is also M-37…near Jefferson Street.  This building was put up several years ago in what used to be an empty parking lot next to a Dairy Queen.  That old Dairy Queen building is now a Little Caesars.
The building looks big enough to have an inside seating are but it's a walk up window or drive through.  There is seating in the form of benches underneath an overhang so you're at least out of the sun.  There's also a little playground for the kids but as we just discussed…we're still not doing playgrounds.
There are two order windows and right now one is the order and the other is the pick up.  The menu is a backlighted board in between the two sets of windows.  It's a simple menu focusing on sundaes but there's still plenty to choose from.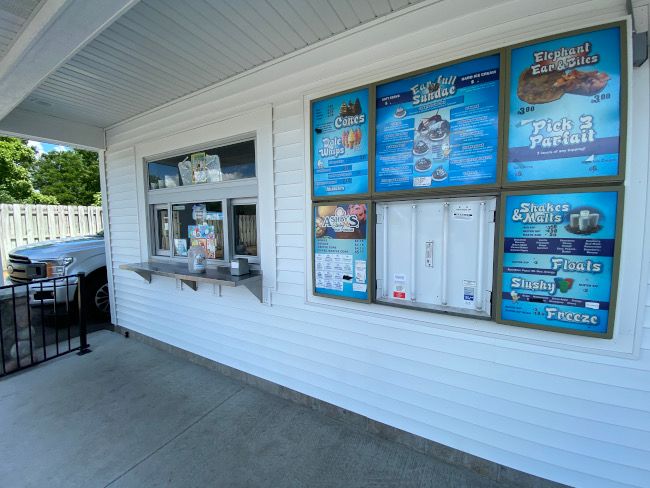 So…all those things to choose from an both kids pick popsicles.  We asked them several times and both of them said yes.  They actually had a pretty large lunch and both actually ate so I guess they could have not been hungry but it's unlike them to pass up ice cream.  They picked Minion popsicles instead.  That's what they insisted they wanted and we didn't argue.  Both got Minions.
J and I were not going to be happy with just popsicles but neither of us really looked at the menu very closely.  I ordered the Hot Fudge Brownie Sundae.  The girl taking my order asked me if I wanted a regular bowl or Elephant Ear Bowl.  Excuse me?  An Elephant Ear Bowl?  Do people actually turn that down?!
This super sugary delicious creation is a large Elephant Ear with granulated sugar topping and all holding on to vanilla soft serve ice cream, brownie chunks, hot fudge, whipped cream, and a cherry.  The combination of hot fudge and the afternoon sun beating down on us caused the ice cream to melt pretty quickly so I ate as fast as I could….plus I wanted to get to that Elephant Ear.  I was scrapped as much of the ice cream out as I could get to and got a lot of sugar with the last few bites.  The Elephant Ear was slightly under cooked but it probably needed to be so it could be molded into a bowl.  The bottom of it was almost inedible from the ice cream and chocolate making it super soggy but the pieces around the side were so tasty.  Both kids were over my shoulder once I got to that point asking if they could have a few pieces.  I happily obliged because there was more sugar in this one little sundae than anyone person needs.
J did something similar after she heard I what I was getting.  She picked the Cheesecake Sundae.  The same tasty Elephant Ear bowl was filled with vanilla ice cream, cheesecake bites (she picked cherry), whipped cream, and a cherry on top.  She had the same reaction I did to the Elephant Ear bowl….like, it's so not necessary but you just can't pass it up.  It's an indulgence…a tasty, sugary indulgence.
Our bill for ice cream was just a little over $15.
Big Lick Ice Cream was a pretty great end to our day before we had to make the long trip home with hot, tired children.
Five months ago, there is no way we would have driven to Newaygo to go hiking.  Our hand was kind of forced to do things differently when things started shutting down and this trip was a perfect day trip getaway and Big Lick was a perfect capper.