Sparks BBQ (Grand Rapids)
July 14, 2020
There are days I miss exploring the Grand Rapids Metro area for new restaurants.  Not very often…but there are days when I hear co-workers talking about the great new place they ate at last night.
I still have days in Grand Rapids and there are actually times every couple of months that I volunteer to work a shift or two in Kent County just for a change of scenery.   I got a couple of those days last week.
There aren't a lot of places I'm itching to go right now due to the shut down but I'm good with places that really have carry-out down.  BBQ is an easy carry-out and there just happened to be a BBQ place downtown that I have been wanting to try for quite some time now.
Sparks BBQ opened their Grand Rapids location on Ionia Avenue earlier this year.  They're in the very heavily trafficked section of Ionia just south of Fulton Street.  They're in the building that was previously Lucky Luciano's Pizza and Georgio's Pizza next to Hopcat.  This is actually Sparks BBQ's second location after starting as a food truck in the Traverse City area.  They opened a brick and mortar store there in 2016.
The space is really quite large and even with half capacity, there are plenty of tables for indoor dining.  The color scheme brings in a lot of red giving you the feel of fire.  The walls are red.  The exposed brick on one side was painted a deeper shade of red.  The tables and chairs have red tints to them.  There really isn't an accent color anywhere as you kind of get the feeling you're walking into a smoker firebox.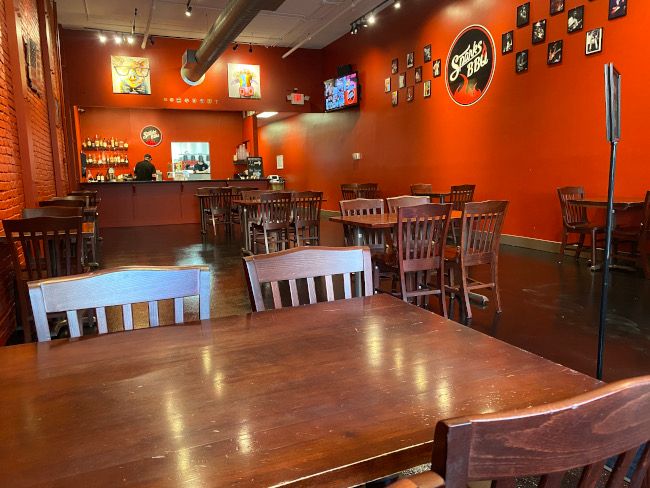 There is a host stand up front but when I walked in, someone came out of the kitchen and asked if I was doing carry-out or eating in.  I told him I just wanted to do a carry-out order so he had me come back to the bar.  There were a couple of people already there doing the same so I had time to look over the menu while the bartender took care of each of them.
I picked the Beef Brisket Sandwich and a side order of Mac 'n Cheese.  The total was right around $17 before tip.  They told me I could take a seat and wait inside or if I wanted to sit outside, they'd bring it out to me.  It was hot and I was the only one in the store so I just went to the back of the dining room and stood in the corner waiting for my meal.
I opted to eat back at the office even though that section of Ionia has a really great set up with one lane of traffic blocked by cement barricades and wrought iron tables set up for all of the restaurants in the area to use.
The Beef Brisket Sandwich really made my mouth water just looking at it.  The sandwich is a quarter pound of smoked beef brisket topped with just a little bit of spicy BBQ sauce.  It's served on a soft but firm artisan roll from Old Mission Bakery in Traverse City.  The meat was so smoky and so tender.  The BBQ sauce didn't distract from the smokiness of the meat at all.  In fact, it just added a little bit of a twang and a little bit of heat to go along with the thick smoky flavor.  The sandwich came with a few tortilla chips stuffed in to the back of the to-go container and a couple pickles slices and onion slices.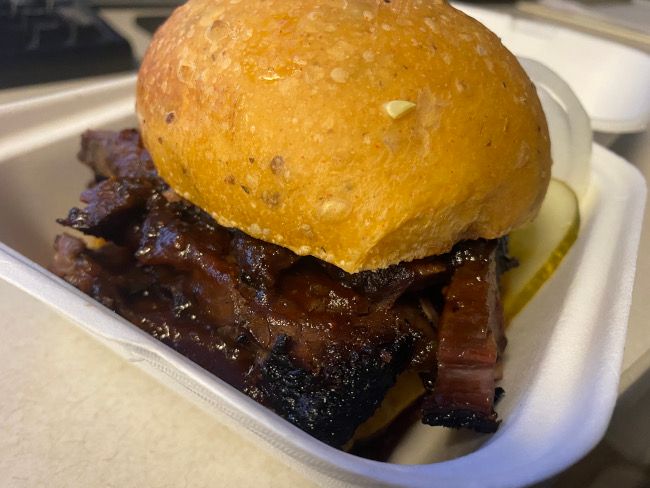 The Mac 'n Cheese also had a little bit of a smoky taste.  The cavatappi noodles are covered in a thick home made cheese sauce.  They have some options for entree portions of the classic side dish that let you add meat but this side portion was the perfect compliment to a delicious sandwich.
I really liked Sparks BBQ. There are a few really great BBQ places in Grand Rapids so it gets hard to choose sometimes.  The brisket from Sparks is easily one of my favorites.  It's pretty conveniently located downtown and the quick turnaround for take out makes this a great place to stop in and grab some delicious BBQ to go.