Newaygo Brewing Company
July 14, 2020
The COVID-19 Pandemic has really changed how we do things.  One of the really great things that has come out of this for us is we're getting outside a lot more.  We started going on hikes back in March because we needed to get out of the house and that was one of the few things still allowed.
J has really ran with the hike thing.  Once restrictions lifted, she started meeting some friends at the trails so the kids could see some other kids.  Hikes became much more regular and J was going almost every night.
Things slowed down when temperatures got in to the 90's but it was much cooler and nicer last weekend.  J had seen a news story for a hiking trail that just opened in Newaygo County and thought it looked like a good place to take a road trip.
The Dragon Trail is a 47 mile hiking and biking trail that wraps around Hardy Pond in Big Prairie Township near Newaygo.  There's only a few sections open right now accessible from Sandy Beach County Park.  There are several miles open so J really wanted to do a long hike.
We did a couple of hours, took a lot of pictures, and even dipped our feet in the water at the beach.  It was a little before 2:00 when we finished and none of us had eaten since we stopped at McDonalds for breakfast on the way up.
I checked Newaygo Brewing's website to see if they were open.  Not only were they open, they had online ordering so I picked what I wanted, handed my phone to J, then we headed in to Newaygo to pick up our food.
Newaygo Brewing Company is right in downtown Newaygo on State Road.  The main entrance seems to be on backside of the building where there's a parking lot.  That's where the GPS takes you anyway.  I decided to stay on State Road and see if I could find parallel parking in front.  Newaygo Brewing did quite a bit of work to this building when they moved in several years ago.  Just from the outside, they cleaned up the facade, opened up the upstairs window, and put a new coat of paint.  It really brought this old building back to life.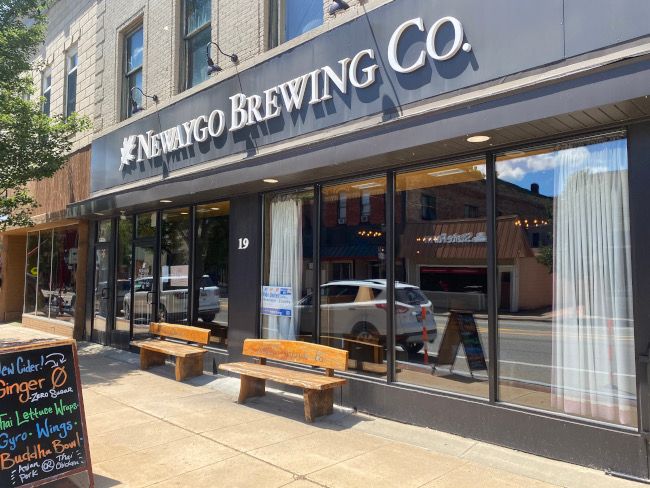 I put the order in online then we had to make a gas station stop on our way in town.  The order pickup was near the back of the space at the bar. Which I headed right to when I got inside.
The space is a lot of what you'd expect from an old building.  There is a decent sized dining room that has the cozy feeling with hard wood floors, lots of exposed brick, and a dark color palate that lets the natural light from the large window really set the atmosphere.   There are a couple rows of floating booths just as you walk in the door.  There are a few tables in about half of the space due to the COVID restrictions.
The bar is an L-Shape in the back corner of the dining room.  There was one bartender working who was also taking orders and doing the carry-out.  It took her a long time to acknowledge me and a line started growing behind me.  She was trying to open a bottle of wine and none of the other waitresses stepped in to either help her or deal with the line at the register.
When the bartender finished, I told her I had a to-go order.  She grabbed the boxes from the kitchen window and handed them to me.  I had to remind her that I also had three crowlers.  She looked panicked for a moment before one of the other waitresses said she already did them and they were in the fridge.
We took our food to Riverfront Park not too far away on the banks of the Muskegon River to eat.  There was a pavilion there with picnic tables no one was using.
I started the meal off with the Spicy Beer Cheese.  They weren't kidding when they say this is spicy.  It's served with two pretzel twists which we all kind of fought over.  The kids loved the pretzels without the cheese.  I loved them with the cheese.  The cheese was spicy but not burn your taste buds off spicy.
There were no burgers on the menu so I picked the Bourbon Chicken Sandwich.  The really great thing about Newaygo Brewing's sandwiches is they're made with pita bread.  The soft, chewy bread is filled with seasoned, savory chicken, bacon, apples, spinach, smoked cheddar, and a sweet Bourbon sauce.  There was a lot of chicken stuffed inside the bread.  The small cubes made it easy to eat and the Bourbon sauce just gave sandwich a tasty kick. The sandwich came with kettle chips on the side.    J and I both used some of the leftover cheese to dip the chips in.
J ordered the Garlic Garden pizza.  The 12″ stone baked pizza comes with a garlic Parmesan sauce, a four cheese blend, spinach, mushrooms, onions, tomato, crumbled feta and fresh basil.  She left the mushrooms and onions off but this was still a very hearty, very filling pizza.  There was more pizza than she could eat in one sitting so quite a bit of it went home with us for a later meal.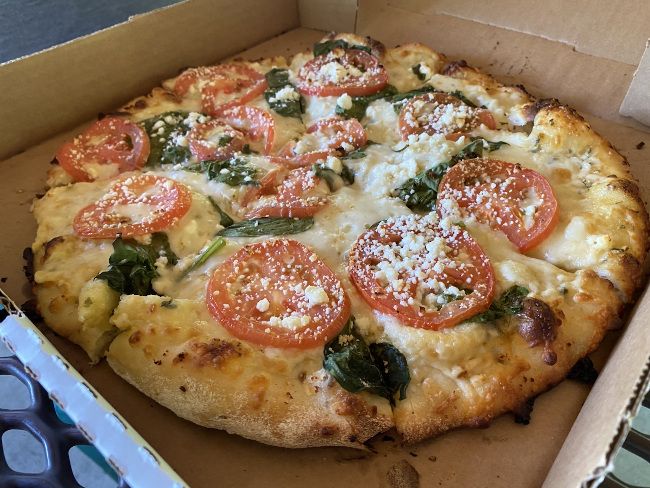 L also ordered a pizza.  She did  the Pint Sized Pizza with pepperoni off the kids menu.  The 6″ stone baked pizza comes with their house red sauce, the four cheese blend and pepperoni.  L devoured this pizza.  She really liked the crust and the sauce.  She commented several times how much she liked the pizza and asked several times if we could get pizza from there again.
We thought we would get B a pizza too but he picked the Grilled Cheese and Chips instead.  Like my sandwich, the grilled cheese comes in Pita bread.  The cheese is the same four cheese blend they use on the pizzas.  B ate about half of his sandwich and a few of the chips but said he liked it.  He just doesn't like to eat when we tell him he has to eat.
We also picked up three crowlers for later.  I ordered the Merlot Barrel Aged Wee Heavy and Smoked Cherry Stout.  J got a crowler of the Hard Cherry Cider.
The cost of lunch was quite a bit due to adding on the beers and an appetizer.  It cost a little over $70 before tip.
I really liked Newaygo Brewing.  I've drank one of the beers since our lunch and it was really good.  J had actually eaten there one of time when she and some of her friends did a girls week at a cabin on Hardy Pond.  She told me several times since that weekend that she wanted to bring me back there so the trip to hike The Dragon Trail finally gave us that opportunity.