Papa Mineo's Pizza
July 13, 2020
There are actually some times I miss working in Grand Rapids.  Those days are never in the winter but in the summer time, I do miss rolling the windows down, cranking the air conditioning and listening to a podcast on my way up and down US-131.
There are still times I volunteer for shifts in Grand Rapids just for a change of pace.  There are also times I think I'm working out of the office in Kalamazoo and they call me in the middle of the afternoon to say I'm needed to fill in for someone up there.  Last Tuesday was one of the latter.
I did actually volunteer to work a couple of shifts in Grand Rapids last week (and we'll get to those in an additional blog) but Tuesday was not one of those days.  I got a call about 12:30 asking if I could drive up to GR to finish my shift.
I don't love hanging J out to dry with dinner without notice but she was fine.  She had a haircut appointment with B so they weren't going to be home around dinnertime anyway.  She said she'd just order out for her and the kids.  I could have got what they go but I decided to just stop on my way home.
I was in the mood for pizza and there's a pizza place in Dorr I wanted to try.  They had an hour wait though and I didn't want to wait that long so I checked to see if there were any pizza places in Wayland I didn't know about.
What do you know?  There was!
I used slicelife.com and put in an order at Papa Mineo's.  I had never heard of this place but they were in a familiar location.  I kept things simple with 16″ thin crust pepperoni and sausage pizza.  I paid the $14 tab online then made the 20 minute drive to Wayland where my pizza was just coming out of the oven.
Papa Mineo's is on Superior Street in what could be considered downtown Wayland.  It's just to the west of Main Street.  There's a building there with a large parking lot that also houses an ice cream shop and a party store.  I've been in this building more than once.  It was a Wing Kingz and Stefano's Pizzeria.
Papa Mineo's moved in to this space in early 2019.  Their signage says they are a "30 Year Tradition" but I honestly don't know what that means.  This location has been around about a year and a half.
The small carry-out only restaurant doesn't look much different than when it was Stefano's Pizzeria.  Most of the space is used for storage.  There's an order counter off to your right when you walk in.  The huge menu takes up an entire wall next to the cutout for the cash register.
My pizza was coming out of the oven when I got there so it took a few minutes to box up and cut before it was handed to me.  Once it was, I headed home to eat essentially a whole pizza by myself.
The thin crust pizza was really golden brown on top and really greasy from all the meat and cheese.  It was one of those delicious greasy pizzas that I just can't get enough of.  I really do like my pizzas on the well-done side….not burnt but everything from the meat, to the crust, to even the cheese have a little bit of crispiness to it.  This pizza had all of that.

Sausage is always so hit or miss with me.  I grew up not really liking sausage mostly because that's what my dad and brother always preferred.  I've really grown to like it in combination with pepperoni IF it's good sausage.  This sausage was really tasty hand pinched stuff.  None of those preformed sausage balls here.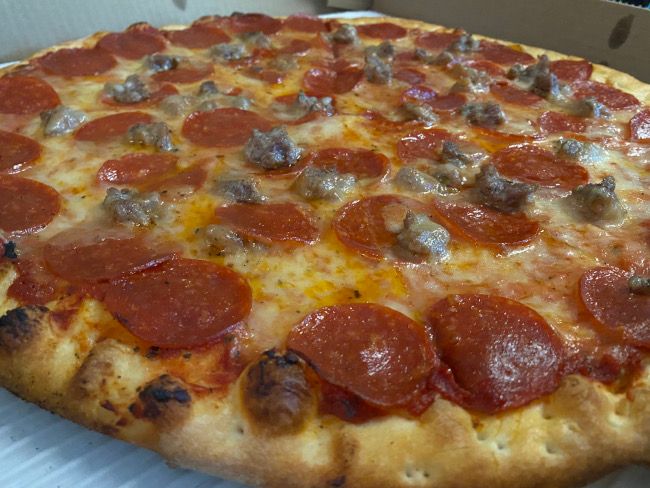 Papa Mineo's is a good pizza.  It's not gonna blow your socks off but it is a solid pizza worth your time if you're in the area.  I used to look for places to stop all the time either on my way to work or on my way home.  Pizza is something that's always a safe bet in my house and had I not got sausage, I would have had to share a lot more than I did.