Mario's Pizza
June 17, 2020
Yeah…the Safer At Home order has been lifted.  Yeah…restaurants are open for dine-in service.  No…we're not ready to do a lot of the things we enjoyed in the before time yet.
My brother called me about a week ago asking if we'd like to meet somewhere for a hike with his family and my parents.  We're always up for hikes now so I started looking for something in Berrien County that would be easy for my family to find.
I found Warren Woods State Park somewhere between Three Oaks and Union Pier.  We hiked for a little under an hour and a half then found our way back to the parking lot.  I had planned on ordering pizza then just eating in the parking lot at Warren Woods but there were a lot of mosquitos hanging around the parking area so we all loaded up and went in to Union Pier to find a place to sit and eat.
I stuck with the pizza plan and put in an order to Mario's Pizza back in Union Pier.  I assumed we could find a park or someplace to sit and eat in town but that was a pretty bad assumption.
Mario's Pizza is on Red Arrow Highway in the main business area of the small unincorporated community of Union Pier.  The restaurant is in a small strip mall a few other business south of the intersection with Townline Road and that is VERY important information right now.   Red Arrow Highway and Townline Road are both tore up with construction right now and moving from I-94 to the beach is impossible.  The detour is very poorly marked and there are really no local roads nearby that that can get you from one side of the construction to the other.  The data on my phone wasn't working so I was having a hard time with maps so I parked on the west side of downtown figuring it was in the business area but that's not the case.  It's a little further south of what I guess you could call "downtown" so we had to get in the car and drive out of Union Pier to find a road that would get us back to Red Arrow Highway..;.all the while dodging people who were literally walking in the middle of the road with no regard for the traffic back up behind them.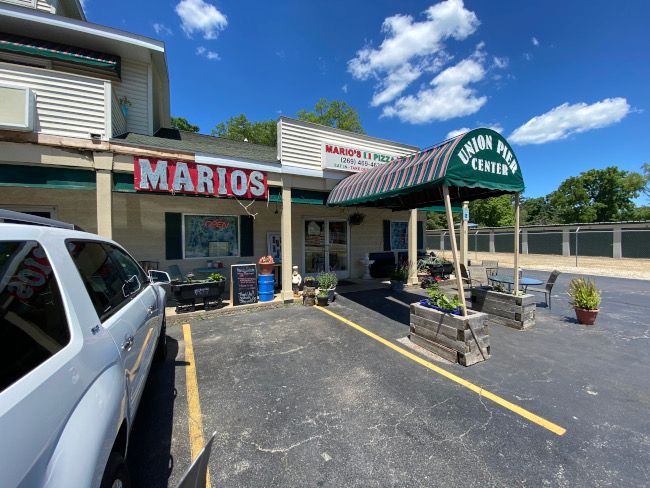 We finally made our way to the green awning that welcomes you to the small Italian restuarant to find a chalkboard sign letting us know they're still doing curbside pick-up.  There was a phone number to call so I did so.  The employee picked up…I could hear her..but she couldn't hear me.  I was literally yelling in to the phone which I made sure wasn't muted but she kept saying she could barely hear me.  Finally I just went up to the door and motioned that I was hear for a pick up.  I went back to the car, put my mask on, and a lady came out with my four boxes of food.
I mentioned earlier, we were going to find a park pavillion or some shade somewhere but Union Pier doesn't appear to have that.  It was so hard to drive around and people walking and biking made it very frustrating.  We found Townline Beach.  I left my family there to play while I went to pick up pizza but we quickly decided that wasn't the best place to sit and eat.  I realized New Buffalo wasn't that far away so we headed to the New Buffalo Memorial Park.  We had eaten there a few weeks ago when we met my parents at Galien River County Park and ordered carry-out from Stray Dog.
I had heard nothing about Mario's Pizza before deciding to order from them.  They were close to where we were going and pizza is a cheap, delicious way to feed my large group of a family.  They claim to be New York Style pizza which isn't something you see a lot of around here so they had my interest from the beginning.
We got two large pizzas and one small.  The large ones were a pepperoni and a sausage.  My kids have all taken a liking to pepperoni all of a sudden so I let the four kids go to town on that one while I started in on the sausage with my dad and brother.
First off, these are New York style pizzas.  The thin crust has a really fantastic snap near the outer edge that makes it perfect for folding over.  The middle part of the crust remains pretty soft and doughy so it's a two handed slice.  The one thing everyone agreed on was the sauce on these pizzas was delicious.  It's slightly sweet but not overpoweringly so.  The sausage on the pizza I started in on was really tasty as well.  It really has the texture of sausage pinched out of the casing.  It's very loose ground meat with a slightly spicy hint to it.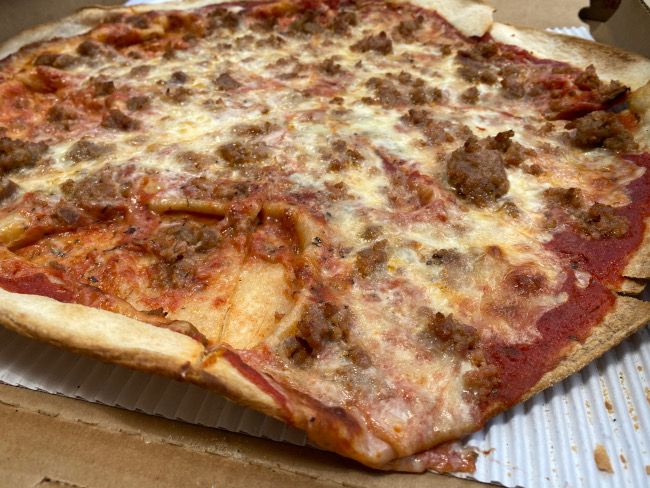 The kids did the damage I expected on the pepperoni.  They ended up eating all but two slices.  The pepperoni gave off a lot of grease which is great for flavor but not fantastic for not making a mess.   We forgot to grab a roll of paper towels before we left home so we were scrambling between two cars to see what fast food napkins we had in the glove boxes.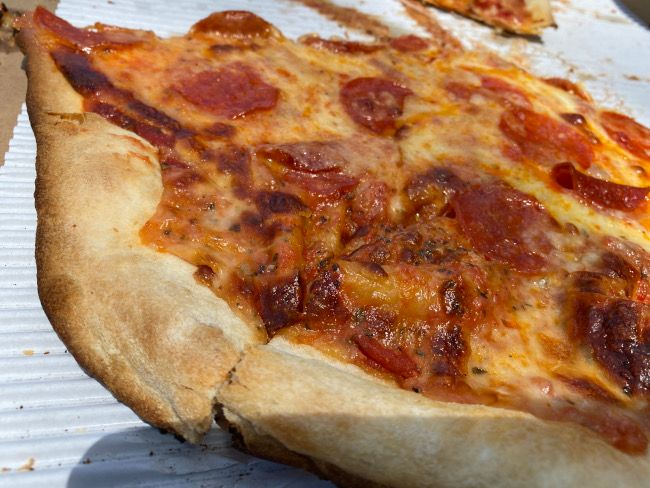 The third pizza was a small plain cheese.  This is mostly for J but she had some help from one of the kids as well. The thing about cheese pizzas is it really lets you taste the individual ingredients.  The delicious sweet sauce really shown through on this one.
I also added an order of Garlic Sticks with Cheese.  These long pieces of bread covered in mozzarella cheese didn't last long.  I opened up the box and the kids all went reaching for a slice.  It came with marinara for dipping but no one used it.  The garlicky, cheesy bread was super delicious on it's own.
Three pizzas and the order of Garlic Cheese Bread cost us just a little under $60.  I paid with cash when the food was brought out although she did offer to take my card inside to run it.
Mario's Pizza was a huge surprise.  I really enjoyed it and I'm fairly certain the rest of the group did too.  We only had one slice of pepperoni and three slices of cheese left when everyone was done.  I really enjoyed the mostly authentic New York style crust.  The pizza was really easy to snap in half and that made it easier to eat.  The large slices were loaded with cheese and sauce so they were a little messy but it's the good kind of messy.
We don't do trips to Illinois as often as we used to but Mario's will stay on our radar.  It's quite delicious pizza.