Krispy Krunchy Chicken (Mendon)
August 30, 2020
My schedule has been so whack lately.  Working weekends.  Going to work at midnight.  It's just been weird and exhausting.
I had to do a midnight to 10 AM shift last Saturday.  J figured she'd just take the kids to her parents house on Friday.  That way I'd be able to go to sleep and they could have some fun without worrying about keeping me awake.
I finished my shift a little before 10 AM on Saturday then  headed for St. Joe County.  I was just going to meet them down there…take a quick nap, then swim the rest of the weekend.
I worked all night but I hadn't eaten anything other than some chips and salsa from the vending machine.  There isn't a lot of options along the backroads we typically take so I waited until I got to Mendon.  My options were either gas station food there or cut down to Centreville and go to McDonalds.
I pulled in to the Mendon Quick Stop on Main Street not too far past the city limits on the west side of town.  I knew they have a pretty decent hot food counter and I've stopped there several times in the past but this time, there was something new.
Krispy Krunchy Chicken moved into the Mendon Quick Stop sometime over the summer.  I noticed it a few weeks ago as I was driving through town but wasn't in the chicken mood on that day.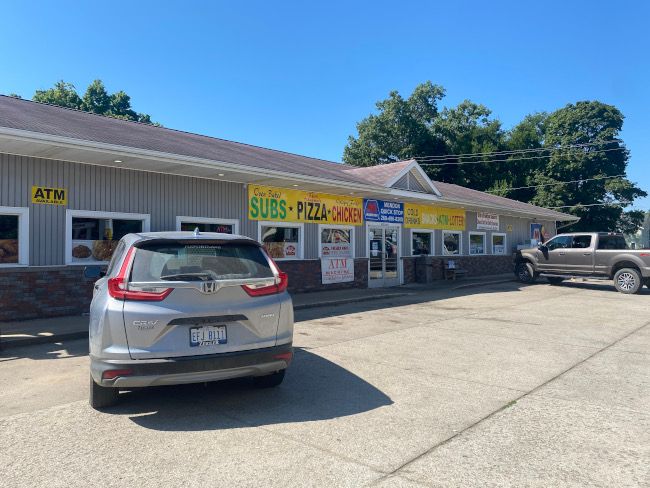 The gas station is pretty large.  They do the typical gas station thing on one side then have a pretty large deli area on the other.  There's a pretty big menu of things not under the Krispy Krunchy banner as well as a lot of chicken.
The deli area has been totally rebranded with the Kirspy Krunchy Chicken signage.  There are large video monitors hanging from the ceiling with the menus and when I walked in around 11:30 on Saturday, the large cases had mountains of food sitting under warming lamps ready to go.
I asked the guy working for the four piece white chicken deal.  I expected two wings and two breasts but he grabbed fourr breasts and put them in a box.  I contemplated sides but just stick with chicken since he gave me four big pieces.    I grabbed a couple of Pepsi's out of the cooler on the gas station side then headed to the cash register to pay.  My cost with the pops was just a little over $10
I took the chicken back to my in-laws where everyone else was getting ready to take the pontoon out to anchor in a cove somewhere.  I quickly tore open the box to eat a couple of the pieces.
The chicken lived up to it's name being both crispy and crunchy.   The Krispy Krunchy chicken is cooked cajun style and there was a trail of the cajun seasoning undeneath the crunchy breading.  Despite being cajun, it wasn't spicy.  There was just a hint of a kind of sweetness and pepperiness but nothing overpoweringly tongue destroying.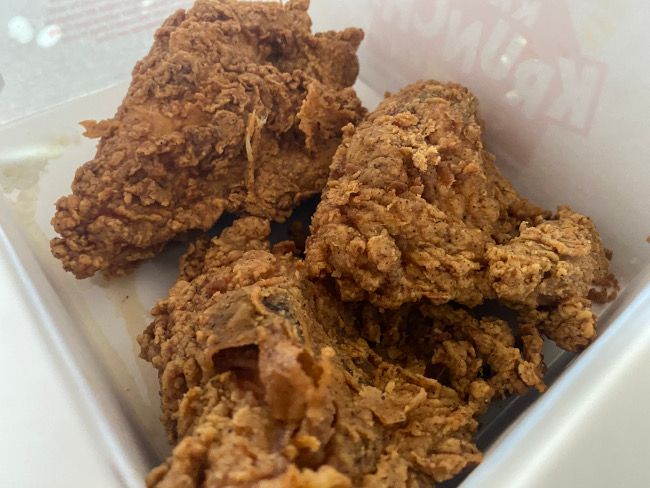 I had eaten at a Krispy Krunchy Chicken years ago in Grand Rapids.  I remembered nothing about that experience so going in to this one was almost like new.
I enjoyed the chicken although at first the flavor was a little jarring.  There is definitely a distinct flavor to the chicken which isn't something you usually get with chain fried chicken.  A few bites in, I was shaking my head like, "yea…this is good."