Flipdaddy's Brilliant Burgers and Craft Beer (Symmes Township)
August 1, 2019
We made it through a five hour drive.  We had a wonderful time at the Newport Aquarium.  Now, it was time for dinner.
It was kind of early for dinner but we sort of skipped lunch.  We ate a pretty big breakfast at K & H Truck Plaza before we left Illinois and no one asked for lunch so we didn't stop anywhere.  We just forged ahead and figured we'd eat early and get to bed.
There really weren't any hotels downtown or near downtown that weren't insanely expensive.  The Cincinnati Music Festival was happening the weekend we were there so prices were a little jacked up.
I found a reasonably priced hotel in the northern suburb of Mason near Kings Island.  The price should have been a warning as to how bad it was but I assumed it couldn't be that bad.  We don't have really high standards.
Anyway, I decided to just get out of downtown before we stopped to eat.  I searched in a pretty wide radius around the hotel but there's a lot of chains in that area.  Eventually, I found a place that I two things I really like in the name….burgers and beer.
Flipdaddy's Brilliant Burgers and Craft Beer is a small, Cincinnati chain of restaurants with an emphasis on burgers and craft beer.  There are four locations with two each on either side of the Ohio River.
I picked the Symmes Township location of Flipdaddy's to stop at because it was near where we were staying.  The restaurant is on the corner of Mason Montgomery Road and Governor's Hill Drive.  The restaurant looks like it could be one of the larger chain restaurants sitting on it's own pad near the Interstate 71 interchange with Mason Road.
We were pretty early to dinner so there weren't many people in the restaurant yet.  We found a host stand right as we walked in near the bar.  There were a few people having some after work drinks because if you sit at the bar or on the patio, there was apparently a happy hour…but that didn't apply if you sat in the dining room.
The host actually took a while to seat us because he hadn't assigned sections yet and was asking the waitress which section she wanted tonight.  Once she figured that out, he took us to a booth along one of the windows looking out in to the parking lot.
The table arrangement allows for a little bit of privacy.  There are walls set up between almost all of the tables on the side we were sitting on.
The other side of the bar was more open with less booths and smaller four tops.
This location of Flipdaddy's has 39 drafts and there was something for both J and I.  I got a beer from a local brewery.  The Blue Ash Double IPA from March First Brewing is a Double IPA that I had no problem drinking.  It was a delicious citrusy beer with that little bit of kick at the end.
J found something from Ciderboys she had never seen before.  La Vida Sangria.  It's listed as a fruit cider and she said it was super sweet.  She liked it so much she got a second pint before we finished our meal.
The menu is exactly what you'd expect from a place that claims to have brilliant burgers.  There's a large list of them and didn't make up my mind until right at the very end when it was time to order.
I picked the Kentucky Bourbon Bacon burger.  The burger is covered with a sweet, sticky Kentucky Bourbon infusion.  It's topped with American cheese, Cherrywood smoked bacon and bacon bits.  The sandwich was fantastic.  The Bourbon infusion gave some sweetness while the crispy bacon added that crunchy texture to every bite.  The sandwich came with choice of side and stuck to the fries.  They are skin-on fresh cut fries that come out just slightly golden brown.
J piked the Bacon Grill'd Cheese.  The sandwich is a pretty classic grilled cheese with choice of one of three bacons and a selection of cheeses on sourdough bread.  J said the sandwich was a delicious but pretty basic grilled cheese.
The star of her meal was her side choice.  She picked the Grilled Mac & Cheese.  What it looks like they've one her is lay down a layer of cheese on the griddle then put the mac and cheese on top of it.  It creates this delicious, golden brown, grilled layer of cheese that wraps around the creamy, gooey pasta dish.
The kids had been pretty good despite the early morning and long day on the road.  By the time we got to dinner, they were getting a little antsy and wanting to go swimming.  We, of course, made the deal if they ate their dinner they could go swimming.  The kid's menu was pretty simple but they had a lot to choose from.  Both picked the Super Mac 'N Cheese.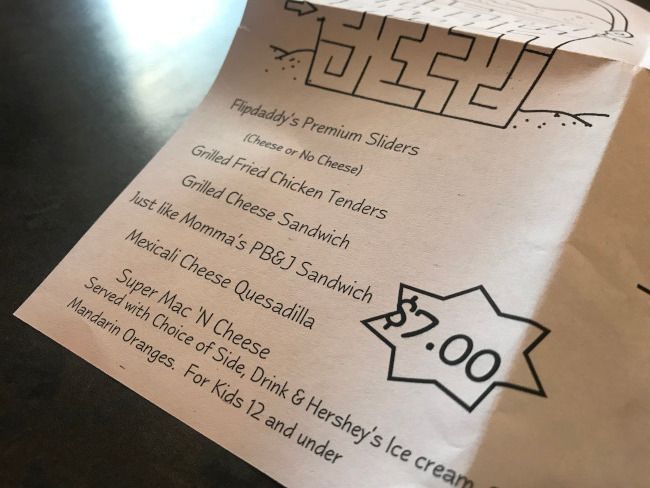 The Super Mac 'n Cheese is the same pasta dish that J got just without being grilled.  They got pretty big bowls and with some coaxing, we were able to get them to eat quite a bit.  One of the kids got fries while the other got applesauce.  The menu said they were supposed to get ice cream but we didn't see that at the time and it was never offered.

Our bill for this meal was around $55 before tip.  Flipdaddy's Brilliant Burgers and Craft Beer delivers on what they promise.  They do have delicious burgers and they do have a large selection of craft beer.